---
Main Specifications
CPU: RK3288 28 nm Cortex-A17 Quad core.
GPU: Quad-Core Mali-T764.
RAM: 2GB / ROM: 16GB (Flash).
Support H.265 Hardware decoding.
Operating system: Android 4.4
Language: MULTI Language support.
Networking & Connectivity :
Bluetooth: Support BT4.0 Module.
WiFi: 2.4GHz/5GHz , Dual Band WiFi; 802.11 b/g/n and 802.11 a/c.
Built-in Ethernet port (Support LAN 100M/1000M network).
Ports & Interface :
1 x HDMI 2.0.
1 x Power DC Jack.
1 x Gigabit RJ45.
1 x Recovery hole.
1 x USB Host, x1 OTG.
Micro SD: 1*Micro SD slot, Maximum support 32GB.
The Package
Unpacking
Items in the package:
1x V5 Mini PC Android Stick.
1x User Manual.
1x HDM Extension Cable.
1X USB Cable (OTG).
1x Power Supply Unit.
Rikomagic V5 Android Mini PC (All Items)
Accessories:
1X OTG Cable (Type: USB Male-Male).
1x HDM Extension Cable (Type: Male-Female).
1x Power Supply Unit (5V / 2.5A).
V5 Power Supply Unit
Design & Quality
Product design and quality are superb, What is normally expected from Rikomagic products. The casing is made from ABS plastic material with a thin rubberized coating and 45 degrees venting slots (holes) located on both side walls, assuring the device gets the proper cooling.
On the back side, you have one USB 2.0 Host port along with a built-in Gigabit RJ45 Ethernet LAN Port for wired connectivity. An additional USB OTG port located on the side is mainly used for firmware updating purposes.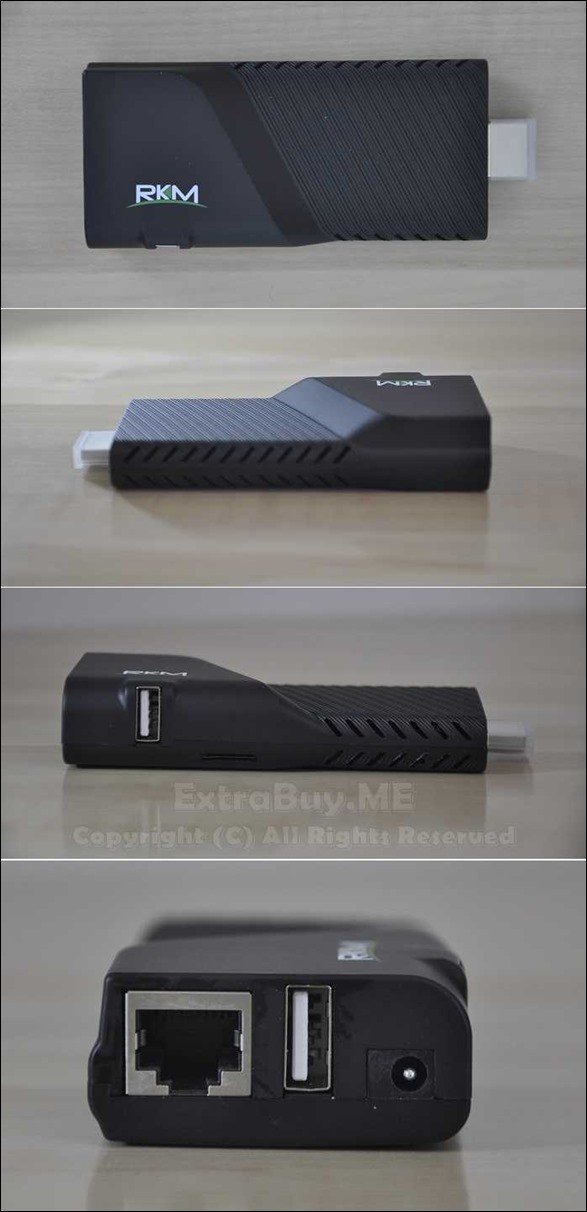 Weighting
Performance
The V5 is equipped with Cortex-A17 Rockchip RK3288 quad-core processor working at clock frequencies ranging between 312 MHz – 1800 MHz (Peak Speed) for each core. In general, it works extremely fast and doesn't heat much.
AnTuTu Benchmark
XBMC Support
The V5 Mini PC came pre-installed with Kodi 14.0 Alpha-4 so I have installed the latest stable 14.1 "Helix" release. On my tests, 1080P Playback worked well without any lags or slowness playing large size, MKV, and ISO video files up to 34GB in size.
I did some experimentation with Semper Media Center (SMPC) Build which is a fork of the official XBMC Build that is said to have better support for Rockchip hardware. Like before, It played most of my samples, including a few video files encoded in H.265 that didn't previously work with the official release.
2K & 4K Support
2K & 4K video playback is far from perfect. About 40-50%, depending on the video file bitrate didn't really play correctly and had minor lags or some sudden picture freezes, That's why I didn't see any point in adding an additional test sheet and just included this note.
Test # 1 :
Files: 1080P Video samples.
Test Type: Local Playback.
Storage Source: External Portable Hard Drive (USB interface).
XBMC Build: SPMC 13.4.0
Test # 2 :
Files: Blu-ray Video samples.
Test Type: Local Playback.
Storage Source: External Portable Hard Drive (USB interface).
XBMC Build: SPMC 13.4.0
System
The device provided by Rikomagic had firmware Build 140613, But I have upgraded It to the latest new build 150112. The V5 Mini PC runs Android 4.4.2 KitKat OS and It works very fast, without problems or system crashes. In addition, it comes with pre-root access via the pre-installed "SuperSU" app.
Installed firmware: RKM V5-eng 4.4.2 K07 49H eng.zz.

20141204

.test-keys
Latest firmware: RKM V5-eng 4.4.2 K07 49H eng.zz.

20150112.

test-keys
UI – Windows 8 tile style UI (User interface), very user-friendly and easy to operate.
---
Storage Space
Internal flash storage space in total is 16GB. The actual real available free space, excluding system files and apps, is approximately 11.44GB.
---
Operation
Updating V5 Firmware procedure:
1 – Extracting archive file which includes firmware and OS drivers.
2 – Loading RKBatchTool (recovery tool Batch Tool) app and selecting the firmware image file.
3 – Connect the OTG cable on one side to the USB (OTG) host port.
4 – Press the recovery/update button (Hole) with a paper clip. While Still holding it with the paper clip connecting the other side of the OTG cable straight to the P.C.
5 – Releasing the update button after 3-5 seconds.
6 – There will pop up a guide window to install a new driver.
7 – Now agreed square indicating device is connected.
8 – Final step: Click the "Upgrade" button.
---
Conclusions
Excellent product in terms of performance & quality. Focusing on the XBMC video playback issue,  Playing 1080P works very well, including large Blue-Ray Rip files up to 34GB in size. Speaking from a home user perspective, you don't need a higher resolution than that. If you're still very keen on playing 4K videos I recommend checking the Rikomagic MK12 Box-based Amlogic S812 solution. That said, the V5 Mini PC sale at a retail price of $86 (Including shipping) in the Rikormagic Aleixpress store Here.
POSITIVES
High Quality

– Root Access

Excellent Built design

Kodi Plays 1080P videos smoothly (Note: Without lags).

Great For Gaming – Equipped with Powerful GPU.
NEGATIVES
Partially XBMC supports Playing 2K & 4K videos.
Rikomagic Website: Click Here