Xiaomi Square Box 2 Review
Xiaomi square box 2 Bluetooth speaker offers advanced specifications. With a higher watt compared to previous models with a maximum power of 5W and Bluetooth version 4.2 compatibility. It's very compact and lightweight, measuring 154.5 x 60 x 25.5 mm and weighing only 239 g. In terms of audio quality, the speaker is equipped with the latest CVC hardware noise reduction chip, providing high-definition sound quality.
The speaker comes with a built-in microphone, which allows you to accept incoming phone calls. In addition to Bluetooth wireless connectivity functionality, It also has built-in AUX port that lets you connect the unit via an AUX stereo cable to any phone, PC, Tablet PC, or other portable devices.
Product Introduction & Review
Xiaomi Square Box 2 Review:
Product Summary
Video Review
Specification
Unboxing
Package Content
Appearance, Design, Build Quality
Sound
Operation
Final verdict
Pros & Cons
---
Main Highlights:
Portable and lightweight, great for taking outside.
Suitable for Xiaomi phones and other Android or iOS smartphones.
Built-in microphone – answer or reject your phone call by pressing the speaker's
power button.
Adopts CVC hardware noise-reduction and offers high definition sound quality
Built-in 1200mAh Li-battery, support for 10 hours playing
Offers easy connection with AUX port devices
Durable structure with ABS surface and aluminum alloy side box
Music playback time: about 10 hours ( variable as volume changes ).
Support Protocols: A2DP, AVRCP, HFP
Bluetooth version: V4.2+EDR
Frequency range: 2.4GHZ-2.48hz
Effective distance: 10M
Output: 2.5W x 2 (5W)
Notes:
The Bluetooth speaker can be charged by Micro USB cable with 5V  1A power adapter
USB & AUX cable not included in the package.
---
Xiaomi Square Box 2 Bluetooth Speaker Specification
Primary Features
Brand: Xiaomi
Design: Mini, Portable
Compatible with: iPhone,iPod,Laptop,Mobile phone,MP3,MP4,MP5,PC,Tablet PC
Supports: Bluetooth, Hands-free Calls, Microphone
Connection: Wireless
Interface: AUX, Micro USB
Audio Source: Bluetooth Enabled Devices, Electronic Products with 3.5 mm Plug
Speaker Impedance: 3 ohm
Color: White & Silver (Aluminum Frame)
Technical Parameters
Bluetooth Version: Bluetooth V4.2
Protocol: A2DP,AVRCP,HFP
Transmission Distance: W/O obstacles ≤10m
Number of Speakers: 2
Power Output: 5W
Freq: 100Hz-18kHz
Other Parameters
Charging Voltage: 5V
Battery Capacity: 1200 mAh
Charging Time: 3 hours
Working Time: 10 hours
Battery Information
Battery Type: Built-in lithium-polymer battery
Dimension and Weight

Product weight: 0.2390 kg
Package Weight: 0.2700 kg
Product size (L x W x H): 15.45 x 6.00 x 2.55 cm
Package size (L x W x H): 18.45 x 8.00 x 4.55 cm

Package Contents

1x Xiaomi Square Box 2 Speaker
1x User Manual
Package
The Xiaomi Square Box 2 Speaker came in a white package with a printed picture of the speaker in the box. The idea of such packaging is to give the user a different experience when opening it. Or in more simple words, What you see on the outside of the package, is actually the product you get inside of it.
Xiaomi Square Box 2 Package
---
Package Content (Unboxing)
The Package came with the Xiaomi Square Box 2 speaker and one-page user manual in Chinese language containing product specification and basic instructions about the buttons and how to operate the speaker. As for other accessories, USB cable for charging the speaker is not included in the package, nor a stereo cable if you are planning on using the AUX port to connect with other devices through a headphone jack.
Xiaomi Square Box 2 Speaker Package Opening 
  Xiaomi Square Box 2 | Unboxing
---
Appearance, Design, Build Quality
Superb on all levels. The speaker case is built from an aluminum metal frame, where the front and back parts are made from high-quality plastic. The general feeling from the user perspective was excellent as holding a premium level item, and not a $27 product.
Xiaomi Square Box 2 speaker
---
Measuring  Weight
According to specifications product weight is 155 g but after scaling with the electronic scale it measures much higher (239 g).
Sound
From my personal impression, the sound quality was crystal clear impressive with a great bass effect I really enjoyed listening to. That said, jumping to the less positive aspect of this speaker. The loudness of the speaker when playing at the maximum audio level was not that high as I first expected. Due to technical limitations of the speakers, which, according to specifications produce an output of 5W (2.5Wx2) this speaker may not be the best choice for listening to music outdoors at full volume.
---
Operation
It's very easy to set up this speaker. First, you will need to press the power button for about 3 seconds. Next, you will need to go to the "Settings" option (Under Android OS) to enable the Bluetooth function and wait a few seconds until the device is discovered under the name: "XMFHZ02", and finally select it for pairing.
Bluetooth Settings under Android OS
Operation Modes:
Charging –  When the battery needs charging the LED turns red until the battery is fully charged and ready to operate. 
Powering the unit – Right after pressing the power button you will get a sound prompt notification and the speaker LED light will turn red and blue while device awaits pairing with a device such as a phone, Tablet PC, PC, Mini PC and so forth.
Paired – Once connected you will hear a beep sound and the LED light color will turn blue, indicating that the device is ready to operate.

Low Power –

 When the battery needs charging the speaker will be an issue a sound prompt following it the LED light will flash in pink and blue colors. 
Speaker Buttons (TOP view)
Xiaomi Square Box 2 Status Lights – Red, Blue, Pink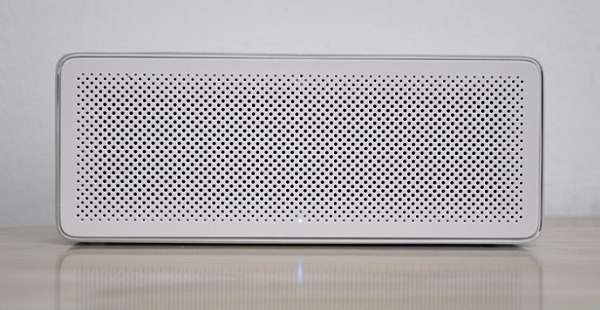 Charging
The speaker has a built-in rechargeable 1200mAh Li-battery, to charge it you will need to use a 5V 1A power adapter, or alternatively, use any device equipped with a standard USB Port.
---
Battery Time
The speaker can easily work for a period of 4-6 hours after a full charge, which is more than reasonable and also depends on volume levels set when used. Again Xiaomi did smart in adding a high capacity battery that can operate for a long period of time.
---
Hands-free answer call function
After pairing the speaker using a mobile phone. To accept an incoming call without touching the phone you will need to shortly press the power button that also disconnects the call using the same method. If you are planning on using the AUX port with stereo cable connection, call answering function will not work, it will only work in Bluetooth mode.
---
Connectivity Distance Test
Tested with: ZOPO Speed 7 Plus Smartphone.
Type of Test: Video Clip streaming with YouTube.
If you are asking what is the maximum distance you can connect with the speaker without having disconnection issues because Bluetooth 4.2 does has its limitations the answer depends on where you place the unit in relation to the streaming device you are using. For example, if you place the speaker in a closed room you most likely have problems.
In my simple test, I placed the speaker in a straight line at a distance of ~5.9M inside a room and streamed some YouTube videos using my phone while changing distance until I some audio problem and finally disconnected. From my personal conclusion, if you keep a distance of 7M and more you will still be able to stream music, but likely will have minor hiccup or interruption during playback, therefore it's highly recommended to place the speaker in an open space environment, and preferably without any walls that can interfere with the radio signal.
Optional Connection with Stereo AUX Cable
 Final Verdict
Xiaomi definitely did a great job with this speaker. Having a user guide in English could be a nice thing to have, but Overall, they're more pros and reasons to buy this product vs. the cons. You will not find a lot of  Bluetooth speakers on this level in terms of quality and design for a price tag of $25.99 including shipping.
---