Product Introduction
The Xiaomi XiaoFang is a compact wireless portable camera capable of recording video at maximum resolutions of 1080P. Designed in the shape of a box, very portable in size (50x 50 x 56 mm). It can be used as a Smart IP security camera compatible, with most external power sources, for example, Power Bank or PC equipped with standard USB interface, which makes this product very handy using outdoors or indoors in a living room, bedrooms and so forth.
Xiaomi added a few innovative functions, such as multiple camera linking and sharing. Remote operation and control via the Wi-Fi network using a mobile phone. It also offers special intruder alarms, motion and sound detection functions, and a smoke alarm in case of a fire. The camera is also has a magnetic base that makes it very easy to mount on most metallic surfaces.
Review Content:
Product introduction
Package
Unboxing (Package Content)
Appearance, Design, Build Quality
Operation
Storage
Main Features
Performance
Final verdict
Pros & Cons
| | |
| --- | --- |
| Style: | Box camera |
| IP Camera Performance: | Night Vision, Two-way Audio |
| Feature: | WiFi, Remote Monitoring, Voice Intercom |
| Sensor Type: | CMOS |
| View Angle: | 110° |
| Video Resolution: | 1080P |
| Memory Card: | TF |
| Max. Memory Supported: | 64GB |
| Wireless / WiFi: | 802.11 b/g/n |
| Power Supply: | 5V/1A |
| Installation Type: | Rotating Base Magnetic Adsorption |
| Lens Specifications: | F2.0 Aperture |
| Infrared Lamp Board: | 2PCS, 850nm, 0.5W |
| Night Vision Distance: | 9M |
| Voice System: | Support two-way voice transmission |
| Working Temperature: | 0℃ – 40℃ |
| Application: | Android 4.0 or iOS 7.0 and above |
| Size: | 56 x 50 x 50 mm / 2.20 x 1.97 x 1.97 inch |
| Weight: | 100 g / 3.53 oz |
Xiaomi XiaoFang Camera Highlights
Mobile Phone Controlled.
Remote Voice Intercom.
Wi-Fi Direct mode – Can be used with a mobile phone without Wireless Network.
Can Be Used with a Power Bank as a power supply Source.
Cloud Data Encryption – Integrates with the Xiaomi cloud service for privacy.
---
Special Alarm / Monitoring Functions
Motion Detection – Record and notify when the camera recognizes movement.
Smoke Alarm Sound Detection – When placed near a smoke alarm detector.
CO Alarm Sound Detection – When placed near to a CO detector.
Support automatic synthesis of 180 degrees super wide-angle picture.
Support Real-time Zoom function.
Night Vision- The environment can be viewed in complete darkness.
---
Other functions
Multi-picture in One Screen – Take your smartphone as a mobile monitoring room, 110° wide-angle lens, distortion correction algorithm, wider and more real. You can use Xiaomi APP to bind multiple cameras to show all their real-time shooting screens on the phone screen simultaneously, grasping the overall situation.
---
Camera Linking 
Two cameras can be combined by magnetic force to automatically composite 180° super wide-angle picture, no delay like Mechanical PTZ camera, no need to wait, slide the screen, and see the picture immediately.
---
Magnetic Base
Put it anywhere as you need. The camera can be rotated to any angle. You can attach the camera in any metal like refrigerator or heating, fix it on the wall with double-sided adhesive tape, and even hang it from the ceiling.
Package
The XiaoFang camera came well packed in a nice green and white-colored package with illustrations and icons on the back of the package showing various functions this camera offers.
Xiaomi XiaoFang Camera Package
Package Contents:
1 x XiaoFang Camera
1 x User Guide (in the Chinese Language)
1 x 1.8M USB to Micro-USB (Power Cable)
1 x Retrieve card pin
Appearance, Design, Build Quality
The camera body has a clean, squared shaped box made from plastic with a base unit connected to a pin/axis. The surfaces of the camera's body are glossy that gives it very high quality, stylish type look to the product, as you are holding an expensive product and not a low cost ~$26 camera. That said, the camera can be rotated in 360 degrees, including up and down directions. Another nice idea by Xiaomi was the fordable magnetic base unit that lets you attach it to metal surfaces. A great option for mounting the camera to metal doors and Door frames.
Xiaomi XiaoFang Camera | Full View
Xiaomi XiaoFang Mounted on Metal Door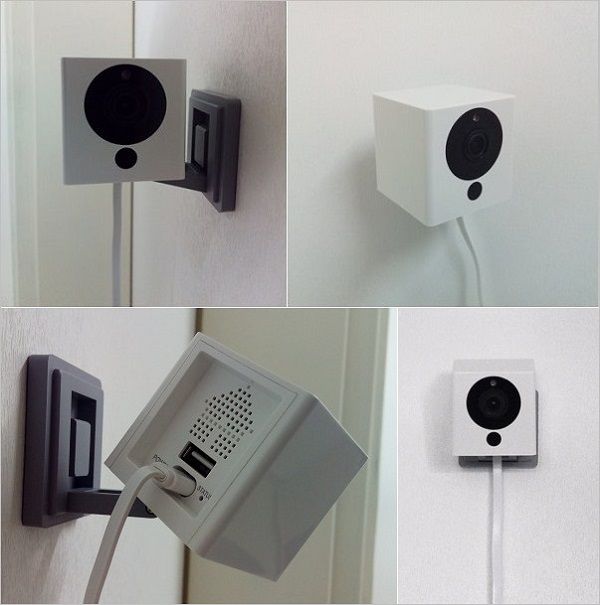 Power Requirements 
Operate the camera. You will need to use a 5V – 1A power source. Optional power sources can be a standard power adapter, PC / Mini PC with a standard USB Host interface. For outdoor usage, you can even use a power bank, solar panel, or connect it to the small single-board computer, such as the Orange Pi Zero, with an external Wi-Fi antenna and set to operate in access point mode and get the power from its USB host port.
---
Operation
You will not any internal power source built inside the camera. In the power supply, Xiaomi included a 1.8M USB to Micro-USB flat cable that is more than enough in length if you place the camera at a distance from the power source. If a shorter cable is needed, you can always use a standard mobile phone charging/data cable.
Xiaomi XiaoFang Camera Power Cable
The user guide is written in the Chinese language because the XiaoFang camera is mainly designed for the Chinese domestic market. Despite that, with some basic logic and understanding, it's straightforward to understand all steps needed to connect the camera with the "My Home" App that has English and guides the user during the setup process.
For the first time step, you will first need to download the "My Home" Application by scanning the QR code located on the side of the left side package or download it directly from google play store. The next step is opening an account by registering via email and password. After you are logged inside the app, you can choose the camera connection mode you prefer.
Now, for the less positive thing in setting this camera. The setup process involves inserting a pin tool inside the camera setup hole to establish a link between the camera and the phone. It's less comfortable and sometimes annoying if you need to repeat the same steps a few times. In my opinion, it was a much better idea in terms of design to use a small button without depending on or needing to use it.
---
Establishing a Camera Phone Link:
Cloud – After subscribing logging inside the 'Mi Home' App, you will need us the pen tool and push it inside the setup hole of the camera until you hear the verbal Chinese instruction telling to proceed to the next step that guides you to scan a QR Code until you hear a second voice prompt and for a final step you need to select a local wireless network, enter your password and that's it you are ready.
First Steps:
Installing Mi Home App

Registering an account

Selecting Camera Mode: Cloud / Wi-Fi Direct
Mi Home Android App
Operation Modes:
Wi-Fi Direct – in this mode, the camera serves as a type of access point, and a connection between the camera and the phone is made directly, without depending on a local network or server to pass the data. First, you need to define a pin code that is basically a predefined password for linking both devices. First, you need to define a pin code that is basically a predefined password for linking both devices.
This P2P model has its limits if you use the camera in a closed and not open environment, for example, indoors, inside rooms where the walls may block and interfere with the radio singles. It is also important to mention that you can't access the internet via other wireless networks in this mode.
 Camera Setup | Wi-Fi Direct Mode
Cloud – The connection with the camera is made through the Xiaomi cloud platform (server). This is the best option for operating the camera indoors or outdoors from every location. Control it a mobile phone from any location using data cellular mobile data connection. In this mode, the link between the phone and the camera is done through the Xiaomi server compared to the WiFi direct option that establishes a direct P2P mode using only the mobile phone and the camera.
---
 Camera Setup | Cloud Mode
Storage – video files and still photos are saved and stored locally on USB Stick and a Micro SD Card inserted into the camera. The user can also preview them by going to the 'Gallery' option and save them on the mobile phone. I am sure it's a 'work in progress' type of project, and Xiaomi will also offer cloud storage features soon.
---
Main Features
Because this camera is a lot of functions, focusing on its main highlights in terms of practical functions you can find in this product are the night vision feature that lets you view objects in partial or completely dark environments.
Another option that's also very handy if you are planning on it as a surveillance/security camera is the motion detection function that basically sends notifications when a moving object is recognized in front of the camera. With 'Mi Home,' users can define different environmental scenarios according to specific needs and usage. For example, you can set a timer to start recording tasks at a specific time, days, and seconds.
Xiaomi XiaoFang Camera | Full-Screen view 
Camera Control Functions:
Microphone – Lets you listen to the environment through the mobile phone.
Screenshot– capturing still photos.
Talk – Speak with a mobile phone and hear through from the camera speaker.
Gallery – Display all saved videos/photos.
---
Magnification
The camera has a zoom X8 factor. That means that you can also zoom on objects using a Pinch Gesture.
Note: Xiaomi is constantly upgrading its cloud platform and changing the 'Mi Home' mobile App UI. Therefore there might be some differences in future software builds when out.
---
Performance
For a 1MP sensor, the overall quality of produced videos and still pictures in an optimal environment with a lot of light was relatively sharp. In low light conditions, the picture became more blurred and unclear but still maintaining reasonable quality.
XiaoFang Still Photos | Samples
File Formats:
Video file: Resolution of 1080P @10 fps, saved in MP4 format.
Captured Still images:  Resolution of 1080P, Saved in PNG format.
Calculating Video Recording Time (Approximation)
Based on the following formula: GB*8*1000⁄Mbps*3600 = 2.222*GB⁄Mbps
Average bit-rate:
Low light conditions: 245-251 kb/s
Optimal light conditions: 400 kb/s
32GB SD Card :  32×8 x 1000/0.248 x 3600 = ~146 hours
32GB SD Card :  32×8 x 1000/0.4 x 3600 = ~177 hours
---
Final verdict
Although the user guide is in the Chinese language, if you use some common sense and follow the illustration during the setup screens in the mobile app, you will get the hang of it and understand how to set the camera. The 'Mi Home' App could have been better in terms of UI design. I missed simple functions such as visual recording progress bar displaying and indicating how much time elapsed since the video task has initialized. Still, I expect Xiaomi is currently working on that. Overall, another excellent low-cost product, and for a low-cost wireless Camera, it's defiantly a great buy.