Best Budget Wireless Keyboard Pick: Riitek K18 Touchpad Keyboard Review.
Maybe you missed it? K22 wireless keyboard
---
Company Introduction
Shenzhen Riitek Technology specializes in the design, development, and manufacture of computers, peripherals, game consoles, and smartphones. Their products are mainly used for PCs, HTPCs, MIDs, Sony's PS3, Microsoft's Xbox 360, Apple's iPad, and other electronic devices. Riitek focuses on quality and strives for excellence in design and product appearance. This has made them well-regarded by many renowned companies as a supplier of technical solutions and as an OEM/ODM partner.
---
Riitek K18 Wireless Keyboard
The K18 is a compact wireless keyboard with a 2.4 GHz connection. It has 78 keys, including multimedia keys, and a built-in touchpad. In this model, Riitek company included a built-in rechargeable battery with a capacity of 850 mAh. It also has a special power status light indicator, which is not commonly found in other wireless mini keyboards. This keyboard supports a wide selection of operating systems, compatible with most Smart TV Boxes, PCs running Windows XP/2000/Vista/7/8, Linux, and Android.
The product package includes a wireless USB receiver with a range of up to 10 m, an Extension USB cable, and a user manual. For further information, including the price, you are welcome to check the Riitek official AliExpress Store (listed at the end of the article).
---
Riitek K18 Keyboard Layout
---
Product Specifications
Model NO.
K18
Product name
MULTIMEDIA WIRELESS KEYBOARD
Brand
Rii
Product details
Connect port
USB 2.0 or above
Processor (MCU)
BK2433KB
Transmit mode
Radio Frequency (RF) 2.4GHz wireless technology
Transmit Power
Less than +5db
Power supply
Rechargeable 850 mAh polymer Lithium-ion battery
Input voltage
5V
Working Current
<18mA
Sleeping Current class1
50uA
Operating Current
<300mA
Product weight
350g
Product Size
325 mm x 121.8 mm x 18.3 mm
Color
Black
Accessories
–
USB cable for charging
1 pcs
Wireless receiver adapter
1 pcs
User manual
1 pcs
---
Product Highlights
1. Auto connect through 2.4G wireless technology.
2. 2.4G wireless mini QWERTY keyboard and Touch-pad combo
3. We have a wide range of media keyboards available for you to choose from.
4. Supports all sorts of devices with a standard USB port.
5. Supports operating system: Windows XP/7/ 8, Android, iOS, etc.
6. Touchpad technology, with notebook operation quality
7. Built-in high-quality rechargeable polymer lithium-ion battery
---
Riitek K18 Package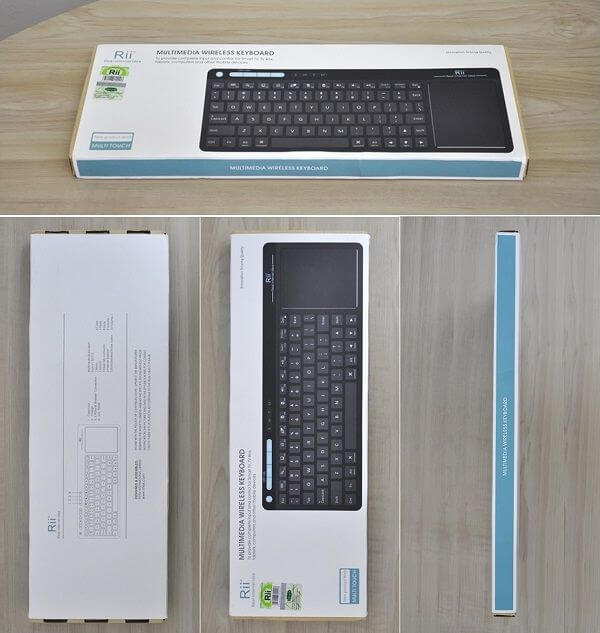 ---
Package
1x K18 Keyboard.
Includes a USB wireless receiver conveniently located in the back compartment.
1x User Manual.
1x USB Extension Cable (For Charging Cable).
1x Thank You / Support Contact Card.
---
Design, Looks, Quality
The initial impression of the key layout arrangement was superb and incredibly user-friendly. As an end user, my experience was absolutely positive. The Touch Pad was highly responsive, with the cursor swiftly reacting onscreen. Additionally, the company deserves praise for skillfully fitting all the keys into a compact arrangement, while also including convenient "shortcut" buttons like multimedia controls, home, menu, quick search, volume adjustments, and a sound muting button. These thoughtful additions truly enhance the efficiency of operating the keyboard.
---
Operation
Back Side Compartment
On the back side of the keyboard Reiitek company add a small compartment containing the mini Transmitter USB Dongle. Next to it you can find the USB type charging cable that is detachable and relatively very short. For extending the length and making it easier to handle, the company also included an additional USB Male – Female extension cable.
Charging the Unit
The k18 is equipped with a built-in rechargeable polymer lithium-ion 850mAh battery. Charging the unit is a very simple process. Once the battery low power light turns on, notifying that the internal battery needs charging. When it happens, you just connect the back USB cable to any standard USB port, for example a P.C and wait for approximately a period time between 30 min – 60 min until the battery charging status light turns off, indicating that the unit is fully charged.
Caps Lock.
Charging.
Connection Status.
Low Power.
K18 Status Display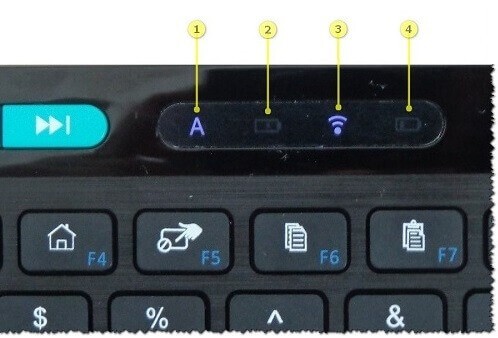 Riitek K18 | Back View
Auto sleep/wake mode
In normal operation, the wireless blue light status is turned on. When the keyboard isn't used for a period of 3 min, it enters into sleep mode (low power consumption mode). Pressing any key on the keyboard awakens it from hibernation/sleep status back to working mode. In addition, you can change this default sleep mode and extend it from 3 min to 2 hours by pressing the FN + ESC keys.
Auto Connect feature
The K18 keyboard has a feature based on 2.4G wireless technology. It doesn't require a pairing code or Bluetooth settings to connect with the USB wireless receiver.The connection is established automatically in "Plug and Play" method, by just plugging the Mini Wireless receiver into a standard USB port.
Operation Range
According to the product sheet, the maximum range of the Keyboard is maximum 10M. I have tested it personally and found that I can use the touchpad and navigation keys smoothly up to a distance of 7 meters without any delay in response time.
K18 Hands-on Review Video
---
Final verdict
The K18 is an excellent compact wireless keyboard which combines both high build quality, design with useful multimedia shortcut keys. I didn't find any cons with it, and it's a great value for buying a product that currently sells for a retail price of $18.80 (including shipping).
This site contains affiliate links to products. We may receive a commission for purchases made through these links.
Rii K18 Wireless Keyboard