Zoweetek i7PPT Air Fly Mouse features, Specs, and general impression.
---
Zoweetek i7PPT
The Zoweetek i7PPT is a Portable design, small and lightweight 2.4 GHz wireless air fly mouse, and remote combo, perfect for remotely controlling PC or smart TV boxes. The remote operates at distances of up to 10M and comes with handy functions such as a Built-in 6-axis, ultra-sensitive and convenient to operate, Auto sleep, and wake-up feature when it enters sleep mode without operation for around 3 minutes. In addition, the remote has a built-in laser pointer which makes it an ideal product for business presentations and lectures, supporting a wide selection of operating systems. The said product package includes a USB receiver (mini dongle) a pair of AAA batteries and a user manual.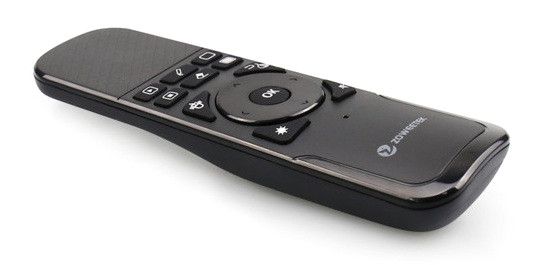 ---
Main Features
Mini fly air mouse and remote combo for remotely controlling PC or TV boxes.
Built-in 6-axis, ultra-sensitive and convenient to operate.
2.4 G wireless connection, 10 M operating distance.
Auto sleep / Wake-up feature: after 3 min device enters sleep mode
Portable design, small and lightweight.
With a USB receiver, plug, and play.
---
Specifications
Receiver(dongle): Nano style
Connection port: With USB 2.0 above
Transmission mode: GFSK 2.4 GHz, up to 10 meters
Transmission Power: Less than +4db
Power supply: 2 * AAA batteries (Not included)
Sleeping current: 30 uA
Operation current: <15 mA
Product size: 132 * 40 * 22 mm / 5.2 * 1.6 * 0.9 in
Package size: 17.7 * 9 * 2.5cm / 7.0 * 3.5 * 1.0in
Package weight: 78g / 2.7oz
System Requirements
HID compatible device
Terminal with USB port
Windows 2000
Windows XP
Windows Vista, Windows CE, Windows 7, Windows 8
Linux (Debian-3.1,Redhat-9.0, Ubuntu-8.10, Fedora-7.0 tested)
Android OS (With standard USB interface)
Package Content
x1 USB Wireless Receiver
x1 User Manual
x1 AAA* 2 battery

Zoweetek i7PPT Wireless Air Mouse Remote Package
The Package
Unboxing
i7PPT Wireless Air Fly Mouse Unboxing
---
Package Content
Item includes
x1 i7PPT Wireless Air Fly Mouse.
x1 USB Wireless Receiver
x1 User Manual
x1 AAA* 2 batteries.
x1 Micro-USB to USB (Female) Cable.
Design and Build Quality
From a first impression, both are good, without any complaints. Zoweetek company designed a very lightweight, ergonomic-shaped Remote Control. The button arrangement including navigation keys was also very compatible to operate without reading the user manual.
---
Operation
As mentioned and also obvious from the product description, the product I remote control and its only disadvantage are that it doesn't have any keyboard functions. That said, for a price of USD 15 including shipping, the product provides both good quality and value. The i7PPT was tested and operated well with a few of the following products:
P.C running Windows 7.0 (64-bit)
Lenovo Tablet PC Model: A5500-F (Using OTG Cable).
Rikomagic MK12 TV Box.
Note:
The device should support all newer operation systems including Android 5. x, Apple iOS, and Linux-based devices.
Laser Pointer
This feature also worked well. The dot created by the laser was strong and no complaints. The laser function is more practical for people doing lectures or presentations. As for younger people using this product, I highly recommend placing a sticker on the diode located on the front of the remote in order prevents any unnecessary accidents, especially when pointing it in the wrong direction.
Fly Mouse Mode
Worked well operating Android TV Box (Rikomagic MK12). It was very easy to navigate between different screens and the device showed good accuracy when pointing directly at relatively small objects such as Application Icons, small buttons, etc.
i7PPT Remote Functions / Buttons
Play: Workable under Microsoft PowerPoint in entering slide show mode.
Paint Brush
Black Screen
Stop
Eraser
White Screen
Lock the cursor (Enabling / Disabling Air Mouse Mode)
Right-click/Return
Navigation Keys
"OK" / Selection
Laser Pointer
Mute Sound
LED Status Light
i7PPT Wireless Air Fly Mouse | Open Back View
---
Final Words
A very good product that works well and supports a wide selection of operating systems. Ideal remote for people in need of an air mouse function along with a laser pointer feature. The i7PPT is defiantly a good buy and is currently available for sale in Zoweetek's Official Company Here or directly buy the product from the link posted below.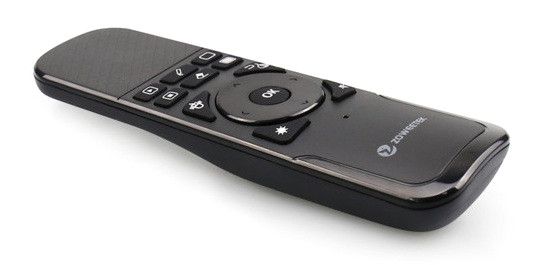 This site contains affiliate links to products. We may receive a commission for purchases made through these links.
i7PPT Wireless Air Mouse with a laser pointer.
---
Company information