Amazfit Neo Review – Hands-on review, specification, features.
Read More Articles:
---
Amazfit Neo
One of the most interesting smartwatches launched in August 2020. The Amazift Neo external design combines an external appearance of a Casio 80s style watch combining with all modern smartwatch capability including mobile connectivity through the 'Zepp' App that supports all Amazfit branded devices.
The watch itself comes with 5ATM waterproofing, with the plastic body weighing 32 grams and available in 3 colors: black, deep green, and red. The frame of the watch remains black and only the body and strap match the relevant color. The Neo strap comes in a standard 20 mm size and is interchangeable, as it is made of PUR (Polyurethane).
---
Amazfit Neo – How to Connect
---
Amazfit Neo: Advanced. Retro. Versatile
The Amazfit Neo features a retro four-sided screen, equipped with four physical buttons. Its design provides the perfect balance of style for your daily wardrobe and versatile functionality with the use of physical buttons. It's the perfect combination of classic design and modern features.
---
Amazfit Neo Smartwatch features
CONTINUOUS HEART RATE & SLEEP MONITORING: Amazfit Neo Smartwatch can track your heart rate 24/7. Also, can monitor your sleep. Once synchronized to the app, you can review the various stages and quality of your sleep.
RETRO DESIGN 1.2" ALWAYS-ON DISPLAY WITH LIFT-TO-WAKE BACK LIGHT: This smartwatch features a retro-styled, always-on display that lets you see the screen clearly under bright light. The Lift-to-wake feature allows you to activate the screen quickly.
ULTRA-LONG 28-DAY BATTERY LIFE: The Amazfit Neo fitness smartwatch has impressive long battery-life and power-management capabilities. It also can be used for up to 28 days on a typical usage & 37 Days on a basic usage on a single full charge.
5-ATM WATER RESISTANT & 3 SPORTS MODE TRACKING: This sports smartwatch features a durable case and PUR strap providing effective waterproofing to 50 meters depth. Running, walking, or cycling, the resilient design will perform in tough environments.
MESSAGE AND PHONE CALL NOTIFICATIONS: Amazfit Neo smart watch is designed for both men and women. It can sync text messages, e-mails, and notifications from a number of popular apps on your smartphone such as Call Reminders, Alarm Clock, Sedentary Reminders, etc.
---
Amazfit Neo Specification
Parameter
Description

Display type
FSTN monochrome screen
Display size
1.2 inch
Colors
Red, Black, and Green
Dimensions
40.3 x 41 x 11.7 mm
Weight
32 grams
Connectivity
Bluetooth 5.0/BLE
Compatible with Android 5.0+ and iOS 10.0+
Dial
Band material: TPU
Case material: ABS,PC
Shape of the dial: Square Shaped
Dial size: 1.2 inch
Straps
Polyurethane (PUR) straps, 20mm width
Features
Real-time heart rate monitor
5ATM water resistance
Sleep Tracking
Sports Tracking
Step Counter
Call and App Notification alerts
Lift-to-wake screen
Idle Alert, Alarm, and Stopwatch
Sensors
PPG Bio-Tracking Optical Heart Rate Sensor, accelerometer
Battery
Battery Capacity: 160mAh
Charging Time: About 4 hours
Standby time: About 28 days
Package Contents
1 x Smart Watch
1 x Charging Cable
1 x Manual
Dimensions and Weight
Product weight: 0.0320 kg
Package weight: 0.1150 kg
Product size (L x W x H): 4.03 x 4.10 x 1.17 cm / 1.59 x 1.61 x 0.46 inches
Package size (L x W x H): 18.40 x 8.50 x 3.30 cm / 7.24 x 3.35 x 1.3 inches
---
Amazift Neo: PPG Heart Rate Sensor
The Amazfit Neo can track your heart rate 24/7. Equipped with BioTrackerTM PPG Bio-Tracking Optical Sensor that can monitor your heart rate 24 hours a day, providing real-time heart rate monitoring to help you better understand your health status.
---
Amazfit Neo: Fitness and sports tracking features
Supported by BioTrackerTM PPG sensor3 and powerful algorithms, the Amazfit Neo helps track your exercise, including steps, calories. Choose from running, walking, or cycling modes and view more detailed information about your exercise time, heart rate, and increase your PAI value score.
---
Amazfit Neo: Monitor Your Health
The Amazfit Neo integrates the innovative PAI Health Assessment System, which eliminates the need to track complicated data and allows you to intuitively understand your physical state at a glance.
PAITM can be used anytime, anywhere, and with any form of exercise in your daily life. Get a clear understanding of your health through your PAI score without having to keep track of complex data.
---
Additional Accessories
Amazift Neo users can also find plenty of accessories that can be purchased separately that will help upgrade the watch appearance and make it more fashionable. For example, silicon made strap or metal with different designs or even an Anti-Scratch protective film that helps protect the display from scratches.
---
Package
---
Unboxing All Items
---
Package Content
x1 User Guide (Multi-language)
x1 Amazfit Neo Watch
1x USB Charger
---
Design
As noted before. The Amazfit Neo is a retro style health sports watch. In external appearance, it reminds the old fashion Casio watch that was very popular iconic item sold in the 80s. But don't get confused, Its not an ordinary "dumb" watch, but a pretty advanced wearable that can be worn independently and also operated with Amazift 'Zepp' mobile app, available for both Android and Apple devices.
Amazfit Neo Smartwatch| Front & Rear views
Wearing the Amazfit Neo watch
---
In the materiel and weight departments. The Amazfit Neo shell is completely made from ABS plastic and comes with ~20 cm length x 2 cm (width) strap made from a relatively soft Polyurethane (PUR) material. In result of the smart selection of materials you get a super light product, weighting just 29g. Making it an ideal pick for adults and especially children of all ages.
---
Operation
From our impression. It's very easy to operate the Amazfit Neo watch. Most of the settings can be controlled throughout the phone or manually via the smartwatch operation buttons. To switch between different operating modes you just use the up/down navigation keys until you reach the required mode.
Operation Modes
Because the Amazfit Neo has a lot of interesting functions and its almost impossible cover all of them in details, we will focus the most unique and relevant features we found in this product.
Backlight – A great option if you're using the watch in low light environments, including at night.
Manual
To manually turn the option one you simply press the 'BACK' button for a few seconds and the display backlight turns on for a few seconds to give you a quick peek and then automatically shuts down.
Automatic
The automatic option is more advanced. It turns the backlight every-time a wrist movement is detected. You can find the option in 'Zepp' App under `Lift wrist to view info'. Within the settings section, you can program or turn this option to work continuously for a day.
Display – The Amazfit Neo features a 1.2 inch Super-twisted nematic (STN) display panel that is not only guarantee very low power battery consumption, but also offers good visibility under direct sunlight conditions, which makes it a great choice for outdoor activities. The display UI layout is very organized, composed of the time, date, day. On the top left corner of the display you have your operation modes/status indicator displayed as a series of icons according to selected modes.
10+ Different Operation modes: Calories, Distance, DND, Heart rate, PAI, Stopwatch, Weather, World clock, Alarm, Call ,(Battery Status).
---
The Amazfit Neo Smartwatch | Outdoors view in a sunny day
Heart Rate – The 24/7 heart rate monitoring mode preformed extremely well and was easy to operate. The function can be turned on without the use of the 'Zepp'. If you need more detailed information, the app offers detailed measurement information such as day of the week and time they were taken. You also have different heart rate zones divided into specific physiological categories: Relaxed, Light, Intensive, Aerobic, Anaerobic, and V̇O2 max (maximum rate of oxygen consumption) we didn't test yet.
World Clock – displaying different time-zones on the watch.
Weather – viewing current weather status and temperatures.
---
Charging
The Amazfit Neo is powered by a 160 mAh lithium-ion polymer battery. To charge the watch you can use a standard 5V – 500 mA USB Host. In terms of design its simple and effective. The USB cable comes with the small base, which basically attaches with minimal pressure to two conductive contact points on the back of the watch.
Charging the Amazfit Neo Smartwatch
---
Notifications
Phone Call Notification
The phone call notification worked well for us. When the user receives an incoming call the first thing you hear is a notification beeping sound followed with the called ID name displayed the watch upper area.
Language Support
Based on the user guide brochure translations to various languages . The Amazfit Neo watch supports up to +20 languages, including right-to-left languages such as Hebrew and Arabic.
The Amazfit Neo displaying incoming call notification in Hebrew language
---
Instant messaging (IM)
On the less positive side, the watch doesn't offer IM, text notification function so the only notification that you get is in a form of beeping sound. Most users would probably find this missing feature to be disappointing as one of the main ideas using a smart watch is to read text notifications without taking the phone out from a small pocket / bag.
---
Software
We couldn't figure out why the size of the 'Zepp' Android APP installation file was about ~98 MB, which is significantly big for a mobile app. Leaving this issue aside , the app offers a lot of interesting features under a very reasonable organized UI. We liked the Short, sleep monitoring, and the heart rate monitoring functions. Common sports activities such as walking and running are also included and run jointly with the Google Maps service.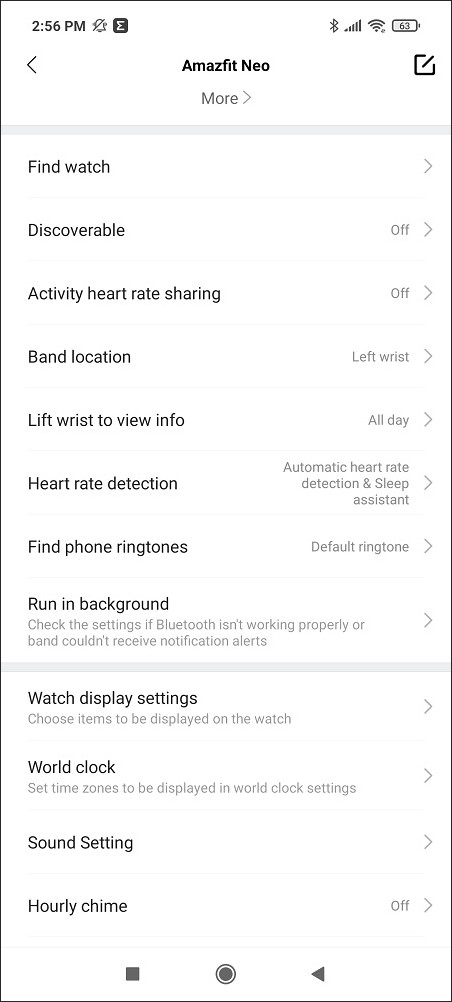 ---
Final verdict
The Amazfit Neo watch is a totally awesome product with great design. Plus. The price is also excellent. It is a perfect gift for children and adults with a strong nostalgic sense of the 80's. Bottom line, we loved and strongly recommended!
---
Where can you buy the Amazfit Neo?
The Amazift Neo smartwatch received good user reviews. It's currently on sale on Amazfit AliExpress Global Retail Store for a super low price of $35.00.
AliExpress Amazfit Global Retail Store
Note! Valid after applying the discount coupon code during the checkout process.
---
Disclaimer Statement:
This site contains affiliate links to products. We may receive a commission for purchases made through these links.