Product Introduction
HiMedia presented their newest Q10 Pro model at CES 2016. The Company latest Android TV Box is based on the Hi3798C V200 chipset, equipped with a new brand quad core 64 bit Cortex A53 CPU and Quad Core Mali-720 GPU, capable of decoding and playing 4Kx2K@60fps ULTRA HD Videos, delivering 4 times the resolution as much as 1080p full HD. The Mali-720 GPU is approximately 5 times more powerful than Mali-450. This 64 bit model with Hisilicon Imprex 2.0 offers better picture clearance and more details via improved brightness, contrast, and color, promising users unprecedented vivid or even real-like entertainment experience.
SOFTWARE: The device runs Android 5.1.1 with a 1080p user interface and comes also pre-loaded with Kodi 15.0, and supports Google Play, local and OTA firmware updates, network video playback (SAMBA/NFS/UPnP), Miracast, and more.
OTHER FEATURES: Include 2GB RAM, eMMC flash internal storage space, H.265/HEVC 10 bit decoding, HDMI 2.0 (4k@60fps) , Dolby Vision VS10 & HDR/WCG support. 3D BD-ISO and BD-ISO playback support, dual-band WiFi (2.4GHz/5GHz 802.11a/b/g/n/ac) for great streaming experience.
DESIGN: The product has an internal Hard drive bay suitable for assembling a 3.5″ Hard drive that support SATA 3.0 interface. In the front of the box there is an LED based display panel along with touch buttons for easy operation.
Buy it from GeekBuying (Germany Stock)
Buy it from GeekBuying (HK Stock)
The HiMedia Q10 Pro Review will focus on:
Product introduction.
Specifications.
Items inside package.
Design, Looks & Quality.
Software & UI.
Performance & Benchmarks.
Hands on Review.
Final Words.
HiMedia Q10 Pro specifications:
Memory – 2GB DDR3
SoC – HiSilicon HI3798CV200 Quad-core ARM Cortex A53 processor
GPU – ARM Mali-T720 supporting OpenGL ES 3.1/2.0, OpenVG1.1, EGL, and Imprex 2.0 PQ engine with HDR, Dolby vision support.
Video Output – 1x HDMI 2.0a up to 4K @ 60 Hz, x1 composite video (RCA)
Audio Output – HDMI, stereo audio (RCA), coaxial and optical S/PDIF ports.
Storage – 16 GB eMMC flash, 3.5″ SATA Bay, SD card Slot.
USB – 1x USB 3.0 host port, 2x USB 2.0 host ports, 1x USB 3.0 device port
Misc: Front LED display and smart touch key, IR receiver
Video Output: 1x HDMI 2.0a up to 4K @ 60 Hz, 1x composite video (RCA)
Audio Output: HDMI, stereo audio (RCA), coaxial and optical S/PDIF ports.
Storage: 16 GB eMMC flash, 3.5″ SATA Bay, SD card Slot.
Video Codecs: 10-bit H.265/HEVC, H.264, VC1, MPEG4, MPEG2, VP9, VP8, VP6,
Video Formats: AVS video decoding up top 250 Mbps bit-rate. 3D blu-ray, BD-ISO, 3D BD-ISO.
Audio Capabilities: 7.1 HD Audio pass-through and downmix for Dolby TtrueHD, DTS
HD, and Dolby Atmos, 192K/24bit audio decoding and output
Connectivity: Gigabit Ethernet (with remote wake-up and standby support), 802.11
b/g/n/ac WiFi with external antenna, Bluetooth 4.0
Power Supply: 12V/2A
Himedia Q10 Pro | Back and Front Views
Himedia Q10 Pro | Opened SATA Bay
Items inside package:
1x 12V / 2A Power Adapter.
1x IR Remote control.
1x HiMedia Q10 Pro.
1x User Guide.
1x HDMI Cable.
Design & Quality
The Sample I received for reviewing has a few quality issues, starting with the lower part of the box that wasn't properly bend at 90 degrees and the antenna plastic housing that was a bit loosen inside the case hole. Things that shouldn't happen, especially when submitting item for a technical review. That being said, taking into consideration that I didn't have any issues with previous samples and its a very fresh product, it was worth mentioning the above problems.
Left Photo: none even sheet metal bends (Above 90 degrees) in relation to the upper cover created a gap between the two parts.
Right Photo: Antenna housing is loosen inside the hole within the case.
Design and Looks
Jumping into the design and looks arena. HiMedia did a really good job in designing the externals of the casing. In the front of the box you have an LED display panel that shows time and playback status, with Illuminated touch keys, for navigation and power which gives the product a very modern look.
Q10 PRO | Front Display View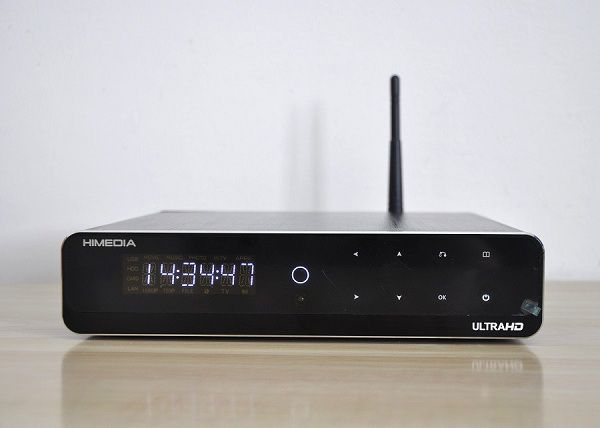 Bottom (Base)
Looking at the bottom of the QPRO 10 casing, The unit doesn't have any ventilation holes. For Cooling HiMedia added a back fan unit to get the extra heat out of the case.
Build (Construction)
The Q10 PRO Casing envelope is mainly built from two parts. One, is the upper cover that also opens the hard drive Bay, which is made from a multi layered plastic part with sheet metal, and the rest of the case envelope, that is mostly made from sheet metal. As for the front display panel, from the first look it looks like a combination of glass and an aluminum frame which holds both the display and touch panel together.
Internal 3.5″ SATA Bay
One of the main highlights of the Q10 PRO is the special internal bay which is suitable for a 3.5 inch Hard drive equipped with SATA 3.0 interface. In my test I successfully managed to assemble a 2.5″ SSD drive without problems (shown in the below image). If you don't any plans "over" moving the unit you should not expect any problems using drives with smaller dimensions, but again.. If you're planing to do as I suggested, note it on your own risk!
That explained, It's also important to mention that SSD Drive is the best choice for storage space, because there is no mechanical parts or heat emitted from the unit, those keeping the TV Box Case a lot cooler, and without any vibrations that normally cause unnecessary noise. For minimizing vibration affect HiMedia added a rectangle shaped rubber isolation sheet, bonded to the internal side of the cover.
3.5″ 250GB Hard Drive Inside the Q10 PRO
Software
The Q10 PRO runs a customized UI designed especially by Hi Media running under Android lollipop 5.1.1 operating system. Main UI looks good, with the popular tile style arrangement which is very responsive and user friendly. I didn't have any software stability problems or crashes playing with the product, basically everything ran fast and smooth.
Storage Space
The Q10 Pro comes with 16GB EMMC internal storage space. After firmware installation and pre-installed apps, the user is left with ~12GB of internal space. In addition, the user has a Full-size SD Card Slot and the Hard Drive Bay that provides more than enough space for storing multimedia files.
Performance & Benchmarks
The Q10 PRO hardware is based on Huawei HiSilicon, Hi3798C V200 chipset equipped with a new brand quad core 64 bit Cortex A53 CPU running at clock speeds between 400- 1600Mhz. AnTuTu Benchmarks ranked 38,477 that is considered to be a very a very high score for a quad core CPU, even when compared to Octa-core processor based on Amlogic S812 and S905 SoC solutions, which normally rank approximately between ~33,000-35000. The reason for this significant boost in performance is mainly related to the new Mali-720 GPU advanced architecture.
Q10 PRO AnTuTu Benchmark
Kodi/XBMC Performance
Firmware 1.0.1 (Default Firmware)
The Product comes with a pre-installed with Kodi 15.2 Isengard that is an optimized build especially made for Hisilicon Chipset. Playing 1080P videos including Blu-Ray worked well and zero problems. When playing higher bit-rate files in 4K resolutions, most of the tested video samples didn't play smoothly, and started to show signs of lag and minor freezes.
Firmware 1.0.3 (Latest Firmware)
After installing a new firmware build 1.0.3 which comes pre installed with Kodi 16.1 the same 4K x 2K samples played smooth, but I still had issues in playing few samples that previously played with 1.0.1 firmware.
Q10 PRO Hands on Review
Final Words
If you're planing on buying a high quality media center box for streaming content from the web then the Q10 Pro is almost perfect in all aspects and provides extra storage space via SATA Drive interface, including a full size SD Card Slot. The only thing needs fixing is decoding issues when playing high resolution 2kx4K videos. The good news is that HiMedia company is current working on fixing the bugs with Kodi media player and a new firmware update should come out soon. That explained, The Q10 Pro is sold online at a price range of US $250-299 (including shipping).
PROS
LED Display with Touch Keys.
Dual-band WiFi (2.4GHz/5GHz).
External WiFi Antenna.
High Performance Hardware ( AnTuTu: 38,477).
High level external Design.
Internal 3.5″ SATA Bay (SATA 3.0 Interface)
CONS
Price is relative high.
Kodi/XBMC Playback needs improving ( Issues playing 2kx4k files).