Xiaomi Mi Electrical TENS Pulse Therapy Massage Machine is literally a magic massager helping to relax your body anytime and anywhere with its Compact Pocket Design. Adopting with the advanced technology of TENS (Transcutaneous Electrical Nerve Stimulation) which is a widely applied technique for muscle atrophy treatment, muscle force training, endurance training, pain treatment, functional movement therapy, and the restoration of motor functions, it reduces your muscle unease and fatigue, relieves the nerves and restores body vitality quickly. The Xiaomi Mi Electrical TENS is on sale for a price of ~$18.00 (including shipping). For further information about the product features you are welcome to check  the link posted below:
Buy it on AliExpress HH-Mi sS Store
Xiaomi Mi TENS Messenger – Review TOC: 
Product Introduction
Product Highlights
Specifications
Unboxing & Quick Overview (Video)
Package
Package Contents
Unboxing
Appearance, Design
Operation
Final verdict
Pros & Cons
Review Rating
Xiaomi Mi TENS Massager Highlights:
Easy To Use – Only one-touch operation, easy to use.
Portable – Pocket design, easily relax your exhausted body anytime and anywhere
TENS Technology – Advanced TENS pulse massage technology is adopted to reduce the muscle unease and fatigue, relieve the nerves and restore the body vitality quickly.
Messaging Modes –  10 intensity in 5 modes is designed to meet your different massage requirements.
Wide Applications – Stick it to your pained body, suitable for shoulders, back, waist, arms, legs and so on.
USB Rechargeable Design – With a USB charge port, 2.5 – 3 hours charge ensures 7 days massage for 15 minutes every day.
Specifications:
Brand: Xiaomi
Time rating: 15 minutes
Pulse width: 200us
Input current ( max ): 25mA
Output voltage: 0 – 85V
Operating voltage: 3.2 – 4.2V
Product weight: 0.0635 kg
Package weight: 0.1750 kg
Product size (L x W x H): 4.40 x 4.40 x 1.05 cm / 1.73 x 1.73 x 0.41 inches
Package size (L x W x H): 10.00 x 8.00 x 5.00 cm / 3.94 x 3.15 x 1.97 inches
Package Contents: 1 x Massage Machine, 2 x Electrode Pad, 1 x Storage Plate, 1 x Storage Bag, 1 x USB Cable.
Xiaomi Mi TENS Massager Unboxing| Main Package 
Xiaomi Mi TENS Massager Unboxing | Package Contents
Xiaomi Mi TENS Massager Unboxing| Package #1 
Xiaomi Mi TENS Massager Unboxing | Package #2
Appearance, Design
Xiaomi Mi Massager is very simple. The product is composed of two main parts assemble together with two electrode connectors. You have the main massager unit and the butterfly-shaped electrode pad connected to it. The main message unit is small, comes in white color and made of abs plastic shell, that is compact and easy to carry with provided storage bag (photo below). As for build quality and Appearance, they all looked good. no complaints here.
Xiaomi Mi TENS Massager with the 

storage (Carrying) Bag 
Xiaomi Mi TENS Massager Weight: 22gr (including protective sticker)
Operation
The main message unit is small and can be charged through PC, or a standalone 5V-1A power adapter via USB cable also included in the package. That said, The user manual provided with the package came in the Chinese language, but because the design is super user-friendly so it's easy to operate it without reading any instructions.
For main control buttons, you have two buttons with (-) (+) signs that basically let you adjust the Messaging level from low to higher intensive, those increasing power and muscle contraction. to switch the unit on or off you will need to continuously press the power buttons for a few seconds. Having said that, It's recommended placing the massage unit on the skin area with minimal hair that can be pulled during the muscle contraction, that can feel less pleasant. Also preferably place it in a reachable location on the body where it's reachable by hand.
One of the drawbacks of this product is that if you place it for example on the lower back you may have some minor difficulty in operating the power and control buttons so you may need another person to help you. To solve this issue, Xiaomi could have done a better job by adding mobile phone connectivity support or at least providing a simple Bluetooth remote unit.
Xiaomi Mi TENS Massager placed on an Arm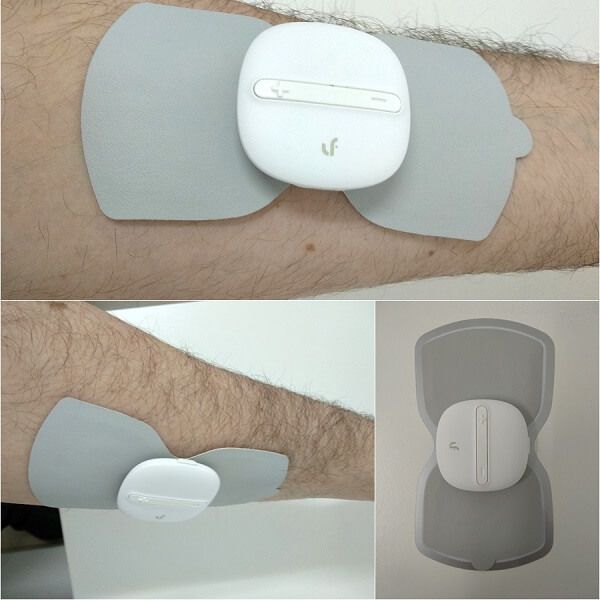 Operating Buttons
The unit top button serves as the power on/off button as well as switching between different massage modes that each take exactly 15 min. On the bottom, you have a standard Micro USB interface to charge the unit when needed.
Charging
When the unit similar to a mobile device uses a 5V power supply for charging by connecting it to a standard PC USB port. When the unit is internal led light turns red color and flashes on and off, in this state, it indicates the unit battery is not full and the unit is charging. After a few minutes, when the device is fully charged a green light will turn on and start flashing, indicating that the charging process is completed and the unit battery is full.
Xiaomi Mi TENS Massager | Charging via USB Cable
Electrode Pads
The package comes with two multi-usable butterfly-shaped electrode pads with ~123mm length and a wide of ~60 mm that can be used dozens of times until the glue on the sticker becomes less effective.
Final verdict
Overall another good product by Xiaomi. defiantly cheap and has some limitations. This product is maybe more particle to relieving pain muscle pain in specific body areas where it's easy to reach and operate. for example, placing it on the arm, leg, waist, shoulders, etc. The bottom line, it's a nice compact massage unit worth buying.
Pros & Cons
Pros:
Cheap
Good Build Quality & Design
Comes with an internal battery
Compact and Portable (Easy to carry)
Cons:
Cannot be controlled remotely
Only Covers small body area parts