USB Desktop Microphone FIFINE K056 | Introduction
FIFINE K056 USB Desktop Microphone is a well build and designed product. Buying a good decent PC microphone is somewhere always a must-have accessory for users that need it to record podcasts, record voice during gaming and also doing live streaming shows via Facebook and Youtube. This high-quality microphone comes in two-color variants: white and black.
The FIFINE K056 Microphone is covered with a steel protective net and uses a type USB interface. It comes with two operation buttons. One for echo cancellation and another for adjusting the volume level. The FIFINE K056 Microphone package include few extra accessories, such as an adjustable stand and anti-wind foam cap. with this microphone, there is no need to add any external power source since it uses a single USB cable.
FIFINE K056 PC Microphone | Black Color Edition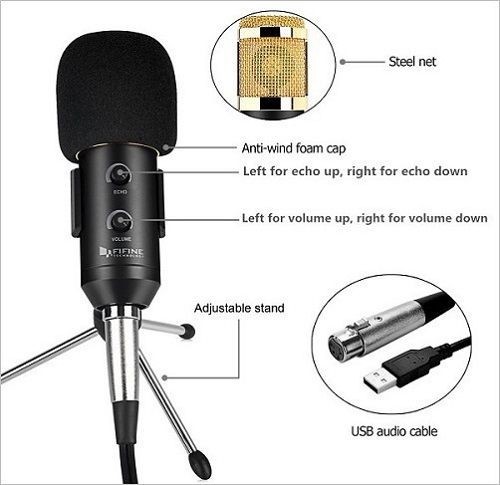 FIFINE K056 USB Desktop Microphone Highlights:
High-performance microphone accurately reproduces sound
Foldable microphone stand, adjust it to any angle you like freely
Applicable to desktop computer and laptop with USB port
Warm note: not workable with the smartphone and speakers only
FIFINE K056 USB Desktop Microphone Specs:
Brand: FIFINE
Type: Wired
Interface: USB Microphone
Color: White, Black
Connection: USB Condenser
Polar Pattern: Unidirectional
Impedance: 16ohms
Cable Length (cm): 2.5m
Mainly Compatible with: Linux,Mac OS,Windows 2000,Windows 7,Windows 98,Windows 98SE,Windows ME,Windows Vista,Windows XP
Dimensions:
Product weight: 0.4600 kg
Package weight: 0.6690 kg
Product size (L x W x H): 16.00 x 5.00 x 5.00 cm / 6.3 x 1.97 x 1.97 inches
Package size (L x W x H): 19.30 x 16.00 x 6.00 cm / 7.6 x 6.3 x 2.36 inches
Package Contents:
1 x FIFINE K056 USB Stereo Microphone
1 x Adjustable Tripod
1 x Clamp (Microphone Holder)
1 x USB Connection Cable
1 x English Manual
FIFINE K056 Review Focus:
Product introduction
specifications & Highlights
Video: Unboxing & Quick Hands-on
Package
Unboxing
Package Content
Design
Build Quality
Operation
Review summary
K056 Unboxing & Quick Hands-on
K056 Microphone | Package
K056 Microphone | Unboxing All Items
K056 Microphone | Items
Package Content:
1x Microphone
1x RXL 4 pins to USB Cable
1x Tripod Stand
1x Microphone Clip
1x Wind Foam Cap
1x User manual
Design
The K056 Microphone comes in two color variants. In black color and a protective net colored in gold. and a white one with the silver net. Most parts of this microphone are built from high-quality metal, including the net that [protects the microphone elements. The general feeling when holding the Mic as nothing but excellent, as holding an expensive product, and not a $25 item.
K056 Microphone | Full view
K056 Microphone + Stand (Tripod)
Build Quality
Excellent on all levels.I didn't find any external issues or problems with product quality.
Operation
Installation of the microphone is very easy and straightforward even if you don't use the English manual, also provided with the package. This microphone is a PnP type (plug and play) device, so you don't need to install any drivers and it's compatible with notebook computers / PCs running under Windows, Linux and Mac OS. If you are planning on using it with a mobile device, such as a smartphone or tablet PC it most likely will not work. To my surprise I had partial success using it with the DOOGEE Mix, as for other smartphones It didn't work well or the sound was very weak.
But if you are into experimentation, Since the microphone uses a USB type of connector you will need to buy a simple USB-OTG adapter converter and just try your luck with different smartphone brands. That said, This microphone designed mainly for Desktop PCs.
K056 Accessories 
K056 Microphone Clamp
K056 Microphone Tripod
Connecting the Microphone with a PC 
The Microphone comes with a 4 Pins RXL  to USB Cable in a length of 2.4M which is pretty long. To start using the microphone you need to connect and push the RXL Plug into the microphone female type connector until you hear a click sound and that's it, you are ready to go.
K056 Microphone | RXL 4 Pin – USB Cable
When the microphone is first connected to a Desktop PC or notebook, it will recognize it under the name: 'USB PnP Device(Echo-058)'.
Windows 7 Recognizing the device when plugged into a PC
Recognized device under Windows 7 Device Manager
Review summary
Everything worked well as it should. The K056 Microphone is a very nice product. not too expensive, and you get a high-quality mic. overall worth the money and it's a good buy.