Perhaps you missed it?
Blitzwolf BW-GT2 PC Gaming Speaker System for $70 (Current Review)
---
BlitzWolf®BW-GT2 Computer Speaker
The BlitzWolf®BW-GT2 Computer Speaker system is a cool multimedia system composed of three speakers, designed for games including none gamers seeking a cost-effective 2.1 sound system to connect to their Desktop computers, Mini PCs, or gaming consoles. The price label of the product is pretty low, as low as $70 (including shipping) and we think it offers great value for money. Is it a great buy? That will be checked in our review.
---
Product Introduction video
---
Multiple Connections
The blitzWolf®BW-GT2 speaker system includes an impressive subwoofer speaker with a 4-inch speaker located at the bottom of the subwoofer housing. On the top of the subwoofer unit, you can find some useful interfaces such as USB host, Bluetooth, SD card slot, and even an FM radio feature.
The subwoofer also comes with a pair of small size satellite speakers with 3-inch drivers giving a total output of 20W (Max) that should be more than enough for every gamer or a music hobbyist.
BlitzWolf®BW-GT2 Subwoofer view
---
Main Controls
Located on the front side of the subwoofer unit. You have three main control buttons: volume, treble, and bass knobs positioned vertically that allow you to adjust the sound output quality settings and volume level. Furthermore, the speakers also have a respective sound range from 200 Hz to 20KHz which provides an immersive sound experience.
---
Connectivity
Another big advantage of the product is its multi-functional features supporting both wired & wireless connectivity. For example, If you are not interested in using your computer as the audio source via a wired connection, you can switch the speaker, wireless mode (Bluetooth mode) and stream music directly from your mobile devices such as Tablet PC or a smartphone
---
Appearance
Designed for gamers, but not only!. Each of the speakers is made from ABS plastic material in the black matt-glossy finish with RGB LED light designed in a V-shaped pattern, giving the speaker system a modern appearance. The main subwoofer box size is 145x210x260mm while the two additional stereo speakers measure 85x10xx150mm (each), as shown in the diagram below.
---
Main Highlights
2.1 Channel system – Combination Speaker: Satellite + Subwoofer,
4inch Full Frequency Subwoofer – Enjoy a HD crystal-like sound and heavy bass fill the whole room.
3.3inch×2 Medium & High Frequency Speaker Unit, Restore real sound effects in the game, enable you to enjoy an immersive experience.
Stunning V-shaped LEDs, fashionable appearance, a combination of smooth surface and frosted show more texture.
Multiple connections: wireless mode, SD/MMC card, memory stick, line, FM radio.
---
Specification
Model
BW-GT2
Size
Small speaker: W105*D85*H150mm
Subwoofer: W145*D210*H260mm
Power
20W
Speaker Size
4″+3″×2
Power Supply
~220V/50Hz
Frequency Response
200Hz-20KHz
Audio Input
Bluetooth, SD Card, USB, Line-in FM Radio
Net Weight
2.38kg
---
Package
---
Package Content
1x Subwoofer.
1x User Manual.
2x Satellite Speakers.
1x Customer service card.
1x Stereo Audio Cable 3.5mm to 2x RCA.
---
Unboxing
All Items
---
Design & Build Quality
The design is good and modern. As for the quality of construction, we can say that it is not amazing, but above decent or considered acceptable for a $70 speaker system.
---
Sound Quality
We didn't expect too much from the product, but the sound quality was surprisingly good. The sounds produced by the speakers were pretty loud and clear without any noticeable noises. Volume, treble, and bass buttons provide decent sound control.
---
Subwoofer Unit
Located on the bottom of the subwoofer unit. The subwoofer unit was successful in producing a deep sound effect. The unit comes with four plastic-made legs that carry the unit to a height of ~3 cm from any surface you place it on.
---
Satellite Speakers
Made from plastic material, Each of the starlight speakers comes with a 3.3-inch driver. The speakers are connected to the main subwoofer unit by means of red and white colored USB sockets to make the distinction between right and left.
---
Interfaces & Functions
Back View
You have the power on/off switch, status light, USB-type, USB speakers ports, and two left and right Stereo RCA Input ports for the Audio cable which connects to the PC, and lastly an external radio antenna wire.
Bluetooth Mode
The working status indicator will flash red and blue during the Bluetooth pairing mode until a connection is established, and once that happens, the indicator will constantly switch to blue.
Top View
There you will find x1 port USB Host, x1 Full-Size SD Card next to The Equalizer, and a Mode switching button. When it comes to navigation buttons, you also have left and right search buttons that also function as top/bottom buttons to find available radio stations.
---
Loudness
Was generally good. The loudspeakers can produce a power of 20W which is more than enough to play loud music or a game. In our opinion, the product is more suited to small and medium-sized rooms. For example, in a room of 2-5 sq.m.
---
Final verdict
The BlitzWolf BW-GT2 is a decent speaker system with good sound quality. The FM Radio is an advantage, plus you have Bluetooth support along with a few needed interfaces such as a USB Host port and an SD card slot. In conclusion, not a bad buy if you don't want to invest too much money and looking for a low-cost sound system for your desktop PC.
Banggood® Official Website
Pros & Cons

Pros:
– Low Cost.
– Bluetooth, FM Radio, SD-Card, USB support.
– Modern Appearance.
– Great Design.
– Good Sound.

Cons:
– No microphone socket.
– The main power switch is located on the back of the subwoofer.
---
Price & Availability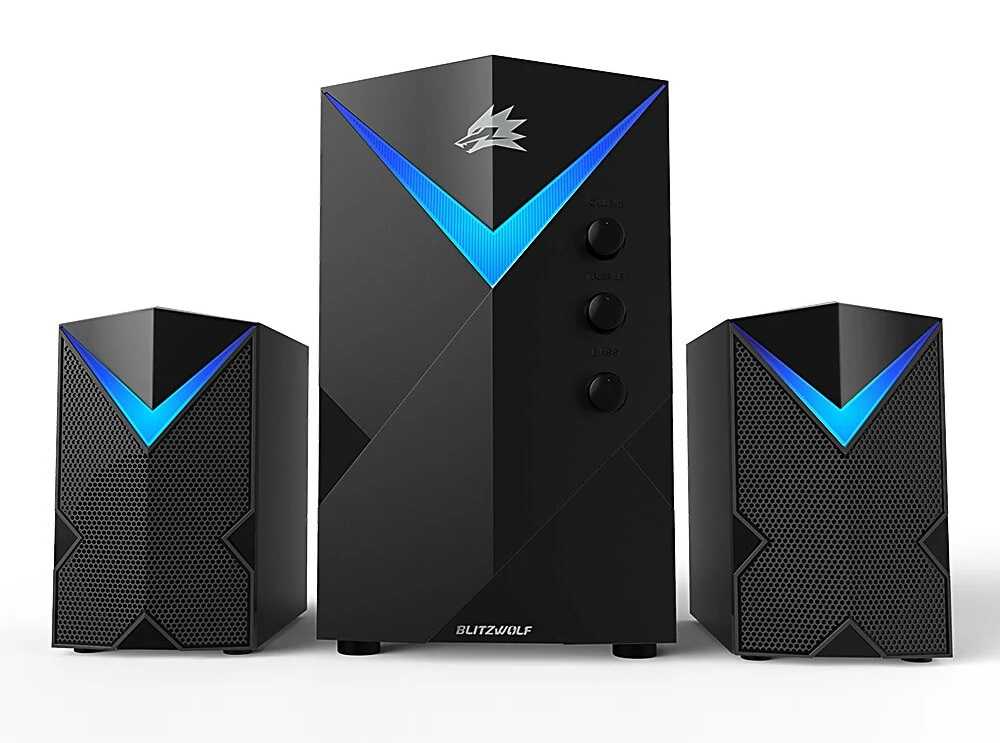 This site contains affiliate links to products. We may receive a commission for purchases made through these links.
BlitzWolf BW-GT2 Computer Speaker (20W)