Product Introduction
The following review will focus on Wellglobal CX-939 Android Mini PC TV Stick based on Allwinner H3 Soc Solution launched a few months ago. In terms of specs they are a pretty entry level type. This model has a lower price tag and exact specs as the branded Tronsmart Draco H3 sold online at retail prices between $40 – $45.
Product specs include Allwinner's ARM Cortex-A7 quad-core processor with a Mali-400MP2 GPU providing 4K Ultra HD playback and support hardware decoding of H.265/HEVC 4K video. The CX-933 also comes with 1GB of RAM, Android 4.4 KitKat operating system as well with 802.11 b/g/n WiFi connectivity, Bluetooth 4.0. with system Ports that include: HDMI, 1 x USB 2.0 port, 1 x micro USB OTG port, 1 x micro USB power port.
Product  review will be focusing on the followings:
Product Introduction.
General Product info, Specs.
Package.
Unpacking.
Items in package.
Design & Quality.
Performance.
System.
Final Words.
Main Highlights:
SoC: Allwinner H3 quad core ARM Cortex A7 @ 1.5GHz
GPU: Mali-400MP2 @ 600 MHz.
System Memory: 1 GB DDR3
Internal Storage: 8 GB eMMC flash.
External Storage: micro SD slot.
Connectivity: 802.11 b/g/n ,Wi-Fi with external antenna, Bluetooth 4.0 (AP6212 module).
Video & Audio Output – HDMI 1.4 male connector up to 4K2K @ 30Hz, with HDMI CEC support.
Video Codec: H.265/HEVC up to 4K30, 1080p60 decoding for H.264, VP8, MPEG-1/2,  MPEG-4, H.263. WMV9, VC1, etc…
USB:  1x USB 2.0 port (full size), 1x micro USB OTG port, 1x micro USB port for power.
CX-933 Specification Sheet
Package
Unpacking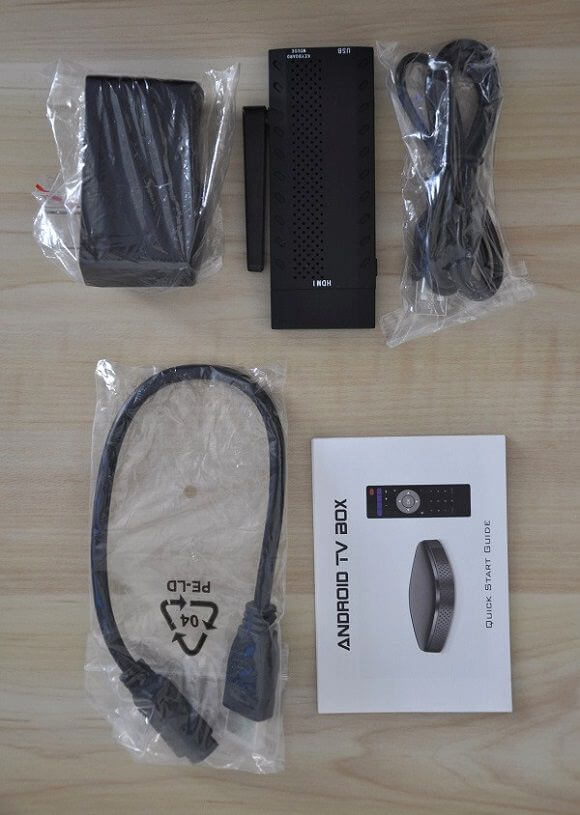 Items in package
1x Power Adapter (5v – 2000mAh).
1x CX-939 Android TV Stick.
1x Micro USB Cable (Date / Power Supply Cable).
1x HDMI Extension Cable (Type: Male-Female).
1x User Manual.
Design & Quality
The CX-939 TV Stick quality and design are both good. Case is made from ABS Plastic material with an external antenna that rotates up to 90 degrees angle. Casing itself is coated with a thin rubber layer to protect surfaces from scratches. On both sides of the case you can find a series of ventilation holes for cooling the unit as shown in the photos below.
Performance
The device is equipped with the Allwinner H3 quad core processor that is considered to be somewhere of an entry level low cost hardware. General performances are OK, but don't expect too much , especially in 3D Gaming do to the fact it uses a quad core Mali-400MP2 GPU and not a high performance Octa Core (8 cores) GPU.
CX-939 TV Stick AnTuTu Benchmark Test
Kodi/XBMC Support:
Device preformed smooth playing 1080P videos. When I tried playing higher bitrate 2Kx4K videos performance was "weak", frames started dropping and a few of my samples showed some freezes. Just as a general note 2Kx 4k playback support is mostly a type of trend in marketing to attract potential buyers, especially when only a handful of content providers in the market broadcast content in 4K quality. For average home users playing 1080P videos with Kodi/XBMC, it should be more and enough.
System
CX-939 came with a clean rooted Android 4.4.2 OS with minimal apps. Just few basic apps came installed, such as Facebook, Netflix, twitter and Kodi/XBMC 14 alpha 3.0 that worked pretty smooth.
Final Words
The CX-939 is a good TV stick. In terms of hardware specs and performance there are better more expensive devices in the market, if you're short on your budget and looking for a low cost product for streaming 1080P videos with Kodi/XBMC then this product provides reasonable performances at a relative low price between 40USD – 50USD.