---
Firefly RK3399 Plus
The FireFly RK3399 single-board computer (SBC) is the world's first PC-class open-source hardware platform based on 64-bit ARMv8 Cortex-A72/Cortex-A53 core designs. Based on the latest Rockchip Hexacore (6 cores) RK3399 Processor, designed and developed by T-Chip Technology Co. Ltd.
Hardware
Featuring 4GB DDR3 RAM, M.2, and a USB 3.0 Type-C interface. It offers advanced features and processing power compared to the previous RK3288 SoC. The Processor features two server-class Cortex-A72 cores clocked to up to 1.9 GHz and four Cortex-A53 at up to 1.51 GHz with many developer-friendly interfaces (external interfaces).
---
Interfces & Storage
It has onboard eMMC with up to 128GB storage, Onboard Gigabit Ethernet, Dual Band 802.11AC WiFi, Micro-SD card slot, M.2 slot for additional storage via SATA Expansion card, HDMI 2.0, Display Port 1.2, 3.5 mm audio, S/PDIF port, a Headphone jack, 802.11ac WiFi, Bluetooth 4.0, Dual MIPI-CIS interface, USB 2.0 and USB 3.0 Type-C port.
---
Applications
The performance of this single-board computer is top-of-the-line. It is powered by the ARM Mali T-864 MP4 GPU that can play 4K Ultra-HD streams, including games, through USB Type C Display Port 1.2. It's equipped with a unique dual signal image processor capable of operating two cameras simultaneously. It is engineered for Virtual Reality applications, 4K and Panoramic Photo and Video Capture, Computer Vision, 3D Rendering, Gaming, Low Power Server, and many more cutting-edge applications and functions targeting Developers/hackers, and DIY hobbyists.
---
Board Models:
Firefly RK3399: 2GB DDR3, 16GB eMMC
Firefly RK3399 Plus: 4GB DDR3, 32GB eMMC
Firefly RK3399 Max: 4GB DDR3, 128GB eMMC
---
Firefly-RK3399 specification
SoC Rockchip RK3399 Hexa-core dual-core Cortex A72 + quad-core Cortex A53
GPU Mali-T860MP4 with OpenGL 1.1 to 3.0 support, OpenVG 1.1, OpenCL and DX 11.
System Memory – 2GB/4GB Dual Channel DDR3 (SAMSUNG)
Storage – 16 to 128 GB eMMC flash + micro SD card
Audio – HDMI, 3.5 mm headphone jack, optical S/PDIF, built-in microphone
USB – 2x USB 2.0 host ports, 1x USB 3.0 port, 1x USB 3.0 type C port
Misc. – RTC battery header; power, reset, and recovery buttons; IR receiver
Dual MIPI CSI interfaces, eDP 1.2 interfaces, YUV interface, 1x MIPI DSI interface
Video Output & Display Interfaces – HDMI 2.0 up to 4K @ 60 Hz
Video Decode – 4K VP9 and 10-bit H.265 video codec support up to 60 fps
1x Debugging – 3-pin serial header Expansion
1x 42 Pin GPIO female header
Dimensions: 124 mm x 93 mm
Power Supply – 12V DC / 2A
Weight: 89g (with a cooling fan: 120g)
OS: Android 6.0.1 , Ubuntu 16.04 , u-boot
Network & Connectivity
1x Gigabit Ethernet (RJ45) port
1 x SIM Card Slot for the Mini PCIe expansion LTE module
1 x Integrated WiFi Combo Module ( AP6356S )
2.4GHz/5GHz Dual-Band WiFi,Support 802.11a/b/g/n/ac,2×2 MIMO standard
Bluetooth 4.1(Support BLE)
---
Package Content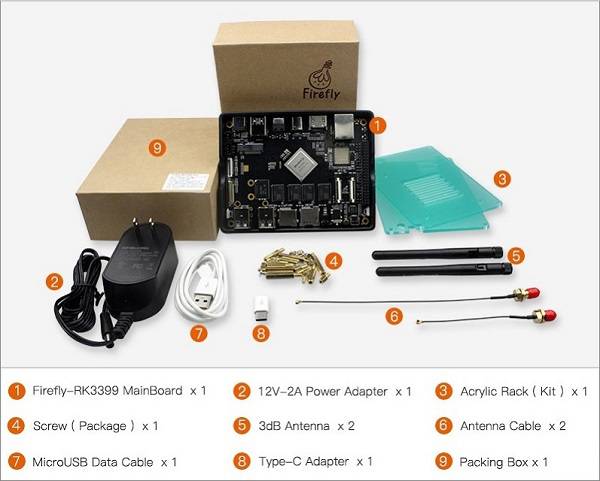 ---
Firefly RK3399 Plus Overview
Package
---
Accessories
The RK3399 Plus Board Package (Kit) came well packed with all necessary must-have items, such as two WIFI Antennas, Antenna cables, Power Adapter, Well designed Heatsink, USB to UART Module (CP2104) board, and a USB Cable with USB Type-C adapter for updating the device firmware via PC.
Firefly RK3399 with Accessories
Firefly RK3399 Unboxing
---
Firefly RK3399 Package Accessories
---
A Closer Look at the Firefly RK3399 Plus
Table of Content

Item No'
Quantity
Description
1
1
12V DC Input Port
2
1
USB 3.0
3
1
Optical ( SPDIF )
4
Optional Module
LTE module Slot/Socket
5
2
MIPI DSI Interface
6
1
USB Type C Display Port 1.2
7
1
HDMI 2.0
8
1
10/100/1000M Ethernet
9
2
Antenna Ipex Socket (BT & WiFi)
10
1
42 Pin GPIO
11
1
Reset Button
12
1
Power Button
13
1
Microphone
14
1
Audio In/Out
15
1
IR Receiver
16
1
SIM Card Slot
17
1
TF Card Slot
18
4
USB 2.0 Hosts
19
1
Recovery Button
20
1
EDP
21
1
YUV
22
Debug Serial interface
23
1
12V 2A Input
24
1
PCIe
25
1
RK3399 (CPU & GPU)
26
2
Bluetooth & WiFi Module
27
1
Power FAN
28
2
Dual CSI Interface
29
4
1GB RAM (4GB in total)
30
1
32GB eMMC
31
1
RTC Bat Interface
Firefly RK3399 Plus Board
---
Performance & Benchmarks
The FireFly board RK3399 SoC is equipped with six cores (Hexa). This Hardware platform integrates a Dual-core ARM Cortex-A72 MPCore processor operating with a max clock frequency of up to 1.9 GHz and a Quad-core ARM Cortex-A53 MPCore processor running at a max frequency of up to 1.5 GHz. In a minimal workload (idle) mode, each of the processor cores operates at frequencies of 480MHz and dynamically changes frequency according to system resources.
In video and graphics, this board has a very speedy Mali-T860MP4 capable of decoding videos and rendering graphics very fast. That said, the AnTutu score ranked 76458, considered a top score for any development board. This means the hardware is strong enough to be used as a Mini PC or workstation running Android 6.0.1 / Ubuntu OS. Compared to Unuiga T96 PRO (3GB / 32GB) Android Set-top Box hardware based on Amlogic S912 SoC and equipped with a Mali 820MP3, the Firefly hardware performed ~56% better. The additional GPU Core and 1GB of RAM greatly impacted system performance, especially when running "heavy" graphics and games on this top-notch hardware.
– AnTuTu Benchmark –
Firefly RK3399 Plus vs. Unuiga T96 PRO
Firefly rk3399 benchmark Results vs. Redmi Note 3 Phone
---
KODI Support
Another significant advantage for KODI fans is the excellent combination of the powerful Mali-T860MP4 (4 Cores) GPU with HDMI Ver 2.0 interface. According to Wikipedia, the new RK3399 SoC supports video hardware acceleration.
From my impression, the GPU performed exceptionally well-decoding video files under Android 6.0 64-Bit OS. In most cases, the average home user will probably not have such a high resolution and frame rate. Still, it's important to mention that after installing and testing the latest Kodi v17 (Krypton) 64-Bit APK package, I could also play video files sampled at 4K@60fps. They played very smoothly, without any noticeable video lags.
Operating Systems, Software Support
T-Chip Company provides two types of Images based on 64-bit ARM Architecture. Android 6.0 and Ubuntu 16.04 run under an Xfce desktop environment that is dual boot supported. What lets you switch between OS in a matter of a few seconds? If you want to experience more OS, you are limited as a user. More OS images could be likable, for example, LibreELEC, Debian Linux, Armbian, Phoenix OS, Remix OS, etc.
T-Chip provides good documentation and support in its website support section. They also include Android 6.0.1 SDK Source for software developers interested in coding under the Rockchip RK3399 hardware platform.
In terms of user experience, both OS performed very smoothly and fast as you would operate a Mini Desktop PC. Because the company is currently focused mainly on China and Google services are blocked in China, the Android 6.0 image was missing Google Play store support, something I needed, and hopefully, it will be added in future Android photos.
Android 6.0.1 | Screenshots
---
Ubuntu 6.0.1 | Screenshots
---
Other special features
Dual Mode Display
Focusing on a few main highlights this board has to offer. The Board integrates about four types of external video interfaces. Among them is a USB 3.0 Type C interface that functions as an OTG-type interface that supports DP 1.2 standard and can be used to output a video signal in 2Kx4K Quality. Both HDMI and USB 3.0 Type C and the HDMI 2.0 interface are capable of working simultaneously under Android 6.0 OS in this Dual Display Mode. You need to make it work to buy a USB 3.0 Type C HDMI adapter or cable and just connect it to another monitor.
Dual Display function in Android 6.0.1 Settings
Optional Accessories (Not included in Kit)
4G LTE module board
Another convenient feature is the option to add a 4G LTE module board that costs $75, which connects to the board PCIe interface. Then you can use a SIM Card to connect to the internet via a local cellular service provider. With this module, you can use the Firefly board as a router to share a connection across other WIFI devices, making it a fully independent portable device with 3G/4G connectivity.
Kit Content:
x1 4G LTE Module
x1 5db Antenna
x1 Antenna Cable
x4 M2 Screw
x2 Nut stud
SATA3.0 Interface
To connect with an external hard drive, you will need to buy the PCIe M.2 to SATA3.0 Adapter Board/module, which is pretty cheap and cost about $9.0. The module provides two SATA 3.0 Ports with two 5V power connectors that should be enough to connect and power two SSD drives.
Kit Content:
1x PCIe M.2 (B-KEY) to SATA 3.0 Adapter Board
1x Screw Stud
2x M2 Screw
IR Remote
For users that want to use the Firefly as a Mini PC and want to turn it remotely, without pressing the Onboard power button all the time to turn the unit on and off, you can purchase a simple IR remote for a price of $5.
Power Consumption
The Firefly RK3399 board consumption was low and not extraordinary considering this board is a high-level performance SoC with 6 Processor Cores. Using a power meter device connected to a power socket, consumption was measured between 9.0 – 13 W when playing 4K videos with KODI Media Player 17.1 Krypton. In Idle mode, "lite" usage with some browsing power was between 6.0-7.1 W.
Keep in mind that these results are not absolute. This means they change dynamically according to usage and consume system resources. If all cores of the processor cores are active and additional external devices are also hooked up to the board, results will change accordingly. In this specific test, I connected Wireless Keyboard, Wirelesses Mouse, and an external USB Hard drive where the video samples were stored.
Firefly RK3399 Power Consumption 4.3 W | idle Mode
---
CPU Temperature
The Firefly RK339 kit comes with a semi-open case composed of a base and upper plastic plates opened from all sides so the extra heat can get out quickly. With Firefly's excellent Heatsink, the processor core temperature measured between 25-26C. If I used a closed case, the results were probably much higher.
---
Final Words
All items included in the package were top quality. This Board is considered top-level hardware with superb performance, capable of running apps and games, including KODI. With all the advanced onboard interfaces, software developers have plenty of features to play with and experiment with. The Firefly-RK3399 Plus Kit I reviewed cost $219. For people that feel this price is too expensive, There is also a low-cost, basic version with 2GB RAM / 16GB EMMC on sale for $ 179.
---
Price & Availability
POSITIVES
4GB RAM

Excellence Quality

Excellent performance

Lots of Onboard interfaces
NEGATIVES
Price

Support only two types of OS (Android & Ubuntu).
---