Top 13 Windows Security Apps to Protect yourself from Cybersecurity Attacks!
Sordum Random Password Generator
License: Freeware
OS: Windows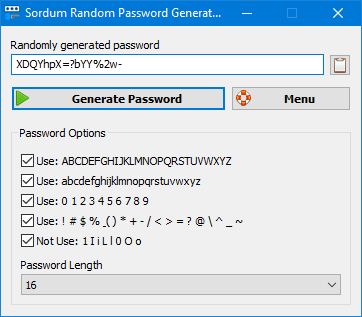 Program Overview
With Sodium random password generator your password is your metaphorical 'key' to unlocking your online 'front door'. You wouldn't hand your home key to just anyone, would you? Cybersecurity experts continually recommend to use of strong, unique passwords for several reasons, cyber-criminals compromise websites and online accounts and post lists of usernames, email addresses, and passwords online. A criminal can look for other online shopping, social media, or financial accounts for that same person. When the criminal finds those accounts they can try logging in with the exposed password. If the password is reused, they can gain access to further accounts. This is why unique passwords are so important. The use of strong passwords can slow or often defeat the various attack methods of compromising a terminal's security. Passwords are the first line of defense against unwanted access to your accounts. The stronger a password, the better protected accounts.
Your enemy isn't some guy in a ski mask trying to guess your password one try at a time. It's a program that automatically runs through massive databases of common passwords or random combinations of characters. Hackers use a technique called brute-forcing. This is a technique where they try every possible character combination until the correct password is identified. The stronger the password the less likely brute forcing will be successful. To Create a Strong Password; Choose a password that no one will easily guess, Do not share passwords, Make sure your password is long, Use at least one letter, number and special character in your password, Remember to update and vary passwords.
---
Firewall App Blocker (FAB)
OS: Windows
License: Freeware
Program Overview
In Windows, you can use Windows Firewall to block or unblock certain applications, but it doesn't offer an easy-to-use interface for its advanced features. The Firewall App Blocker is a small, free and installation-free tool that allows users to easily and without having to spend a lot of time working with Windows Firewall with a few simple clicks to put their software in the Windows Firewall.
---
AskAdmin
OS: Windows
License: Freeware
Program Overview
AskAdmin restricts user access to chosen applications, files, and folder contents. It's ideal for those who have children, and for business computers. In a few seconds, you can simply block most any resource on your computer, including Microsoft Store, Microsoft EDGE, Google Chrome, Skype, built-in apps (e.g. UWP), CMD & BAT files/scripts, reg data and more. To further prevent access to blocked items, AskAdmin provides an optional password. AskAdmin is a portable application.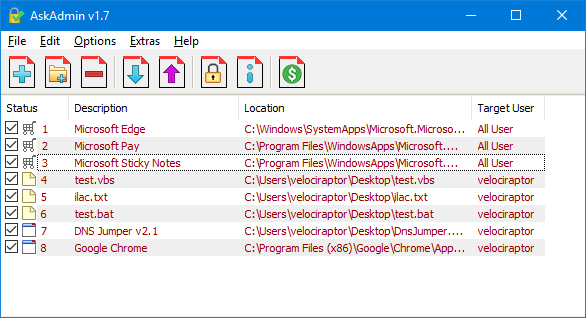 ---
Easy Service Optimizer
OS: Windows
License: Freeware
All Windows versions load many services at startup. Most of them (not all) are essential to the core system features. By disabling unnecessary services, performance can be improved significantly, especially on computers with low system resources. Here are some of the Windows services that you can safely disable including few security related:
Bluetooth Support – if you don't use Bluetooth.
Diagnostic Tracking Service – Turns off Telemetry and Data Collection
TCP/IP NetBIOS Helper – If you are not a part of a Workgroup network
Computer Browser – This will then disable Network discovery of systems on the local network.
Windows Camera Frame Server – If you never use a webcam or an integrated camera.
Remote Registry (it's not usually running by default, but you can disable it for safety).
Remote Desktop.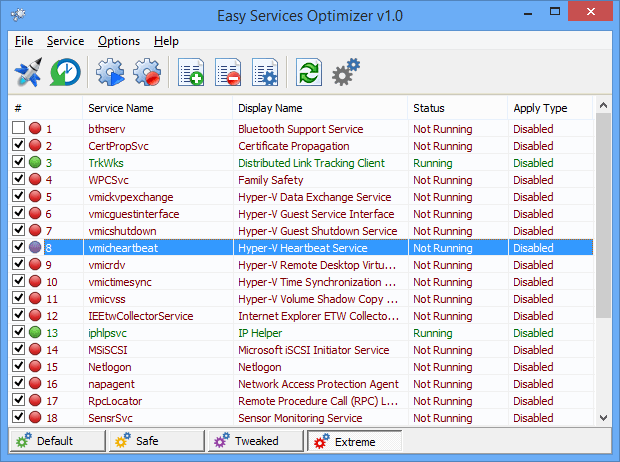 ---
WebCam On-Off
OS: Windows
License: Freeware
Program Overview
Webcams allow us to stay in touch with family and friends, or perhaps record and stream video from your computer to the internet or to a file. When not in use, you may wish to disable your webcam to ensure it is not making unwanted recordings. Malware can take over webcams, so there is potential for spying. Hackers can utilize trojan-horse attacks, enabling them to take control of your webcam, allowing them to record you or take pictures of you without your knowledge.
If you're a parent, you may also wish to disable your webcam for safety reasons. Instant messengers and websites that utilize video aren't always safe for children, thus disabling your webcam may be the best course of action. If the camera is external, you could always unplug it and hide it, but this can become tiresome if you are frequently in need of it. And what if, as on most laptops, you have a built-in camera?
The Washington Post highlighted an unnerving study published at Johns Hopkins University which found that a laptop webcam can function in relative secrecy – a slightly more subtle Eye of Sauron if you will. Webcam spying, particularly the variant that involves disabling LED indicator lights, takes quite a bit of effort, but the practice isn't limited to the realm of academics. The FBI has publicly acknowledged its ability to employ such techniques when investigating criminal activity.
As you can see, disabling your webcam completely is the safest way to protect your privacy. Because of this, we have created "Webcam On-Off" which is both portable and freeware. With it you can easily disable or enable your webcam. Don't let your home become someone else's reality TV!
---
KeeWeb Password Manager
OS: Windows, Linux
License: GPL (Open Source)
Program Overview
KeeWeb is a cross-platform and modern password manager compatible with KeePass. KeeWeb Portable is packed as a portable application, so you can manage your passwords on the go. It has all the same functions as KeeWeb and also doesn't leave any data on the computer where you run it, so you can take it with you wherever you go.
The application was created for macOS, Windows, and Linux platforms, as well as an Internet version for web browsers (Chrome, Firefox, Opera, Edge, Safari) and has almost all the functions available in computer applications.
KeeWeb features:
you can change the appearance of the application between dark and light
themes – mark items with colors and easily find them using the "Colors"
tab – supports multiple files – open several files, search for any entry or display all elements from all files as one list – search
works for all files, everything is done from one search box –
add tags to arrange entries, quickly select them in the list or add new ones
automatically synchronizes changes on devices with the Dropbox service –
files are saved for use in offline mode, even those open with Dropbox, you can always access the offline version, the changes will be automatically synchronized when you re-enable online
you can drop attachment attachments and database files directly into the application
data fields can be hidden when you don't need them, they will also be stored in a safer way than usual –
generate passwords of any desired length using symbols you want
quick access to functions thanks to shortcuts –
send search by specifying fields, searching for passwords, history and using the advanced regular expression syntax
all changes will be saved in history, you can restore any state or completely delete – view
details and copy passwords using mobile browsers
selecting from the set predefined icons with high resolution, downloading via a website or using your own
Switching between the list and the table layout –
Attaches photos to entries and displays
Automatic program updates.
The application is built using network technologies. KeeWeb understands files in KeePass (KDBX) format. You can create such files (password databases) in KeePass or in this program. The file format is 100% compatible and should be understood by both programs.
---
BleachBit
OS: Windows, Linux
License: GPL
Program Overview
The BleachBit program is used to delete unnecessary and hidden files and to protect the user's privacy by irretrievably erasing the data.
The program can detect and delete temporary files created by over 70 of the most popular applications, min. Adobe Reader, WinRAR, APT, Bash, Beagle, Chromium, Epiphany, Firefox, Flash, GIMP, Google Chrome, Google Earth, Internet Explorer, Java, KDE, OpenOffice.org, Opera, RealPlayer, Safari, Skype, VIM, Xchat or yum.
In addition, BleachBit allows you to clean cookies, browsing history, unused files and folders, destroy logs and temporary files or commands entered in the console, in which we leave our traces of activity on the computer. Its advantage is speed and effectiveness.
---
Alternate Password DB
OS: Windows, Android
License: GPL (Open Source)
Program Overview
Alternate Password DB is an effective and very easy to use program for secure storage of passwords and pins. With only one password we get access to encrypted data (Blowfish 256 bit cipher). It allows you to protect files in any format by simply loading them from your computer.
The program has a built-in password generator for creating and using a strong password with a preferred length, which can contain numbers, uppercase, and lowercase letters or special characters.
The following types of entries are available in the Alternate Password DB program:
simple text
username and password with commentary
files (e.g. photos)
tables.
Entries can be stored in folders and subfolders. Cut, copy, and paste options are possible for these entries. Password files can be converted to an executable (EXE) file that can be transferred to a USB drive or other portable drives without having to install this program.
We can also configure the program to block itself after a specified period of time (the master password will be required again). The program offers the option of printing, so you can also have a copy of the data on paper.
---
PwTech
OS: Windows, Android
License: GPL (Open Source)
Program Overview
Passwords are virtually ubiquitous in the digital world. Whenever you create a user account for a website, you need a secure password. When you have to change your computer or network login password, you need a secure password. Also, when protecting personal data and private communication by strong encryption, you should better use a secure password.
Password Tech is a Windows application that can help you generate secure passwords and generally any kind of secure key for access control and data protection. To this end, it uses a cryptographically secure pseudo-random number generator based on strong cryptographic algorithms:
Random generation through a combination of the one-way hash function SHA-256 and the encryption algorithm Advanced Encryption Standard (AES) or ChaCha20 with a 256-bit key.
Entropy accumulation by collecting volatile system parameters and exploiting indeterministic timing from user input such as keystrokes, mouse clicks, and mouse movements.
Password Tech is capable of generating a large variety of passwords and passphrases, which may be composed of purely random characters or words, or follow certain rules so that they can be memorized more easily:
Passwords composed of random characters from a character set.
Passphrases composed of random words from a word list.
Phonetic (pronounceable) passwords based on language-specific trigram (3-letter) frequencies.
Passwords based on user-defined patterns (formatted passwords) using a variety of placeholders for different character sets.
Execution of Lua scripts with a programming interface to Password Tech allows full control over the process of password generation.
Generation of large amounts of passwords at once, which can be displayed in a window, stored in a file, or output on the console.
Full Unicode support in the entire application.
---
Microsoft Safety Scanner
OS: Windows
License: Freeware
Program Overview
Microsoft Safety Scanner is a scanning tool designed to search for and remove malware from Windows. Just download and run it to search for malware and try to reverse the changes made by the detected threats. Since the application does not require installation, we can also put it on a USB memory stick.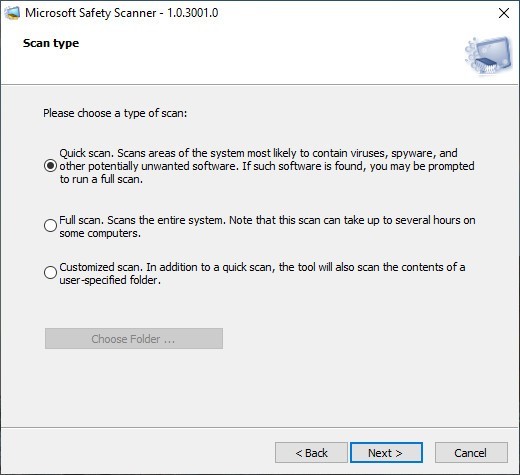 The tool will not replace malware protection programs. To use automatically updated real-time protection, use the Windows Defender antivirus program for Windows 10 and Windows 8 or Microsoft Security Essentials for Windows 7. These programs also provide effective malware removal features. If you have problems removing malware using these products, see help information on how to remove persistent threats.
How to run a scan using Microsoft Safety Scanner:
Download the tool and run it.
Select the type of scan you want to use and run the scan.
Review the scan results displayed on the screen. The list contains all identified malicious programs.
---
TinyWall
OS: Windows
License: GPL (Open Source)
Program Overview
TinyWall is a lightweight, user-friendly, and secure firewall for Windows. It is also completely free. TinyWall gives Windows Firewall a sane and secure configuration and presents you with a simple interface where you can easily define security policies.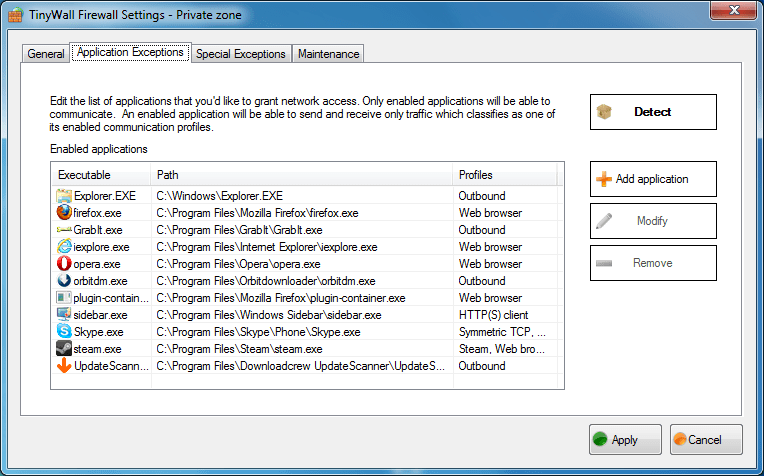 ---
PWGen
OS: Windows
License: GPL (Open Source)
Program Overview
The PWGen application is able to create a large number of strong cryptographic passwords that can consist of whole phrases or a list of words. I think you should not paint a lecture on what cryptography is, I recommend just reading it on Wikipedia, the conclusion is simple, everything is very serious and reliable unless of course, the developers deceive us. PWGen uses its own working methods, the user is just required to enter certain letters, the parameters of your system also affect the formation of the password.
PWGen is a completely free program, which also has an open-source code. It uses modern cryptography algorithms, which include AES, SHA-2, the application is unobtrusive – it is most convenient to use, during installation there will be no additional DLL files in the system, Windows registry settings will not be affected, and if you want to remove the program, then there are no signs of it stay in the system simply will not be. You can find the Russifier on the official website, it's for the previous version, so we'll wait for the fresh release, but in general, everything is clear and without it, it seems to me, there should be no problems.
Features
Easy to install and use.
Arbitrary password length.
6 different character sets b64, hex, easytoread, Hex, AZ-az-09, AZ-az-09-symbols.
Secure memory management: memory allocated by the program is filled with binary zeros before deallocation.
Uses up-to-date cryptography (AES, SHA-2).
Encrypt clipboard and decrypt clipboard with the password.
Create a file containing purely random data.
Combine words with characters.
Generate a large number of passwords with one click.
Exclude ambiguous characters.
First must not be a low-case letter.
Include at least one upper-case letter / digit / special symbol.
Exclude repeating consecutive characters.
Redefine ambiguous characters / special symbols.
---
Windows Firewall Control
OS: Windows
License: GPL (Open Source)
Program Overview
Windows Firewall Control is a powerful tool that extends the functionality of the Windows Firewall and provides new extra features that make Windows Firewall better. It runs in the system tray and allows the user to control the native firewall easily without having to waste time navigating to the specific part of the firewall. This is the best tool to manage the native firewall from Windows 10, 8.1, 8, 7, Server 2016, Server 2012. Windows Firewall Control offers four filtering modes which can be switched with just a mouse click.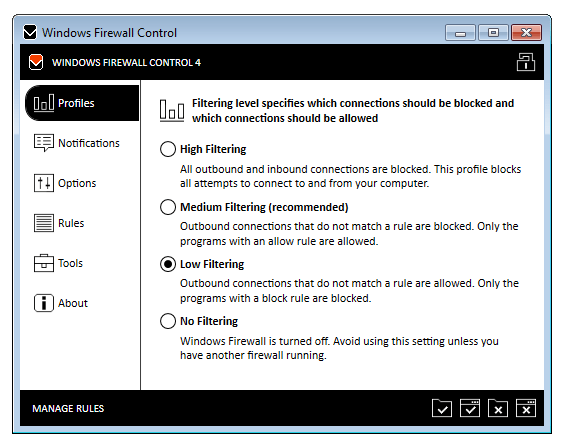 Features
√ Notifications of outbound blocked connections.
√ Learning mode that automatically allows digitally signed programs.
√ Create temporary rules which are automatically deleted when they expire or on program restart.
√ An intuitive user interface that is easily accessible through a system tray icon.
√ Full support with standard user accounts. Elevated privileges are required only at installation.
√ Disable the ability of other programs to tamper Windows Firewall rules and state.
√ Integrated support for creating, modifying, and deleting Windows Firewall rules.
√ Multiple and easier ways of creating new rules in the Windows Firewall.
√ Lock feature which can disable the access to the settings of the program and Windows Firewall.
√ Shell integration into the right-click context menu of the executable files.
√ Automatically display invalid rules for programs that do not exist anymore.
√ Possibility to find and display duplicate firewall rules.
√ Merge multiple similar rules or duplicate existing ones.
√ View recently allowed and blocked connections and create new rules from the Security log.
√ Import and export of partial sets of rules.
√ Protection of unauthorized uninstallation.
√ Possibility to restore previous settings at uninstallation.
√ Global hotkeys are supported and various shortcut keys are available.
√ Integrated multi-language support in 29 languages.
√ And many, many more. Just try it out.
---
For more Security tips check FriendlyElec NanoPi R2S Router SBC.