---
Xiaomi Buds 3 Review
Officially released on 6th September 2021, a few months before the launch of the premium 3T Pro Buds model by Xiaomi, comes a more cost-effective model. The Xiaomi Buds 3 in-ear Bluetooth buds are available in two colors. Carbon black and white. You can say that this model is the equivalent to the Xiaomi Buds 3T Pro, just with a few hardware differences. For example. It comes with a dual microphone with noise cancellation, vs. the 3T model with a triple microphone array. Also, the diaphragm construction is of a high premium tech found only in the advanced 3T Pro model, which significantly improves dynamic sensitivity.
The Xiaomi Buds 3 supports most of the 3T Pro model features if not all. You got a True Wireless Noise Cancelling experience, including an Ultra-Long Battery Life, which is very important for most users. Charging through a USB-Type C interface or wireless with a certified Qi charger.
Each bud weighs only 4.5 grams with a half-in-ear design giving users more comfortable even for a long time using a stylish and minimal charging case designed to fit perfectly in the palm of your hand, powered by a Qualcomm QCC3040 chip: Support new-gen of Bluetooth 5.2, lower power consumption, faster transmission, and more stable connection. Lastly, the price point is more reasonable for consumers, starting at roughly 70 US Dollars, excluding shipping fees.
---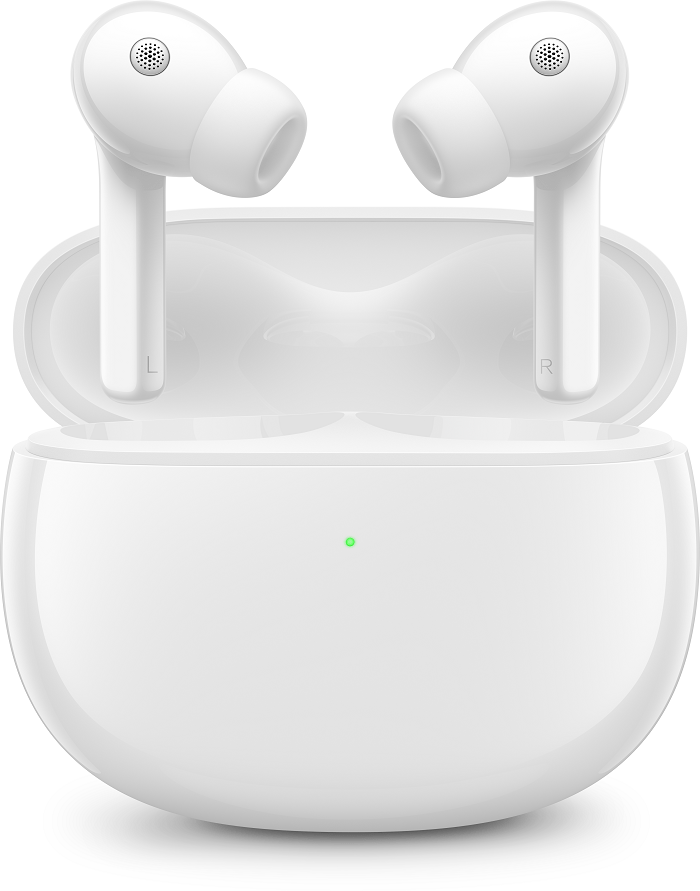 ---
Xiaomi Buds 3 Specifications
Product Type: Headset
Wearing style: In-ear
Recommended usage: Calls/Music.
Connectivity technology: Wireless.
Wireless range: 10 m.
Water Protection: IP55* (dust and water resistance).
Connectivity: Bluetooth 5.2
Ear coupling: Intraaural
Acoustic system: Semi-closed
Driver type: Dynamic.
Microphone type: Built-in 3 Microphone array.
Battery type: Built-in battery
Charging port: USB Type-C
Battery technology: Lithium Polymer (LiPo)
Battery life (max): ~20-24 h (Using the battery case).
---
Package
---
Design
Xiaomi True Wireless Earbuds 3 Noise Cancellation can reach up to 40dB. Their exterior design is similar to the Apple AirPods Pro, with a stem and classic silicone pads for better insulation. The ergonomic design can better fit the user's ears, and it also has IP55 waterproof certification.
Case Design
The exterior design of 3 Buds and T3 Pro is almost the same, with the Xiaomi logo brand printed on the back. T3 Pro is slightly smaller and compact. Both models enjoy wireless charging support, which works well with any Qi-supported charger. You place the case on the wireless charging surface, and that's it; there is no need for a USB cable. Users that need wired charging can use a short Type-C charging cable also included by Xiaomi.
A Closer Look at the Case
Similar to the T3 Pro model, The process of pairing is straightforward. Xiaomi positioned the pairing button on the bottom of the case, just next to the USB Type-C charging port. For the first setup, you will need to press the button for a few seconds and take the earbuds out of the charging case while enabling Bluetooth mode on your phone.
---
Earbuds Design
The earbuds' design is as comfortable as the 3T Pro with a slightly elongated body. The overall general feeling was good. Xiaomi also included a second pair of additional rubber tips for people with different ear physiology.
---
Unboxing
---
Package Content
x1 Xiaomi Buds 3 + Charging / Carrying Case.
x1 USB Type-C Charging Cable.
x1 User Guide (Multilanguage).
---
Active noise control (ANC)
Call without noise: Dual-mic with Qualcomm cVc echo canceling, and noise suppression technology delivers crystal clear voice quality no matter where you are. The earbud offers up to respectfully 7 hours of operation on a single charging and proximity 32 hours of battery life when used with a charging case.
Xiaomi Buds 3 adopts a hybrid noise reduction method through the cooperation of two microphones, feedforward, feedback, and call, to achieve noise reduction in different scenarios. Its noise reduction depth can reach 40dB, effectively blocking 99% of external noise. Wearing it in various noisy environments will bring you a world of solitude where no one disturbs you.
Four levels of noise reduction
And the noise reduction function has four levels you can pick. Mild noise reduction is applicable in the office, moderate noise reduction is suitable for noisy indoor people, and severe noise reduction is ideal for noisy outdoor environments.
You can choose the right one according to your environment. We highly recommend using Mi Buds M8 Android mobile app to switch between different modes and get the max control over your earbuds.
In addition to general music noise reduction, it also performs call noise reduction for different call scenarios with the collaborative work of microphones combined with the call noise reduction algorithm implemented by the neural network model. It can accurately eliminate environmental noise, preserve the voice, and communicate clearly in noisy scenes.
---
Simultaneous connection with two devices
Fast Switching between two different devices is a nice feature worth mentioning. Especially when connected to tablets or a pair of mobile phones, you can switch quickly between them with ease and comfort.
---
Battery Life & Other Features
With just 10 minutes of charge for 90 minutes of usage: Xiaomi Buds 3 supports fast charging. With only 10 minutes of charging, you can use it for 90 minutes. Never be afraid of battery off. In-ear detection: The music stops when you take out the earphone, and the music resumes when you put on the earphones.
MIUI pop-up notification window (Chinese Xiaomi Phone Users): Instead of downloading and installing the Mi Buds M8 App on the phone. A window automatically pops up when opening the case, displaying the intelligent connection. Xiaomi phone users in china can enjoy this feature built inside Xiaomi MUI Software.
After connecting to your Xiaomi phone, you can also view the earphone's battery life, including case battery status. For protection, Xiaomi Buds 3 can accompany you through heavy wind, rain, and workouts offering IP54 waterproof: With IP55 dust and water resistance.
---
Wireless Charging Power Usage Test
We used a Baseus Wireless Charger (15W) model BS-W526 with a built-in digital display showing real-time voltage and power values information. According to the test, values were approximately between 2.1 to 2.2 watts when charging, with a steady voltage rate of 9.2V.
---
Software Support
The Mi Buds M8 mobile App is available for Android OS users. It lets you manage all of the Earbud functions in one place. It contains an extensive list of earbuds models, including Chinese and global models. Under the noise cancellation function, you can select four types according to environmental conditions and personal preferences. Since there is no battery information display on the case, you can also use the app to monitor the battery power usage. Our experience operating this friendly app was good.
Mi Buds M8 Android App (Screenshots)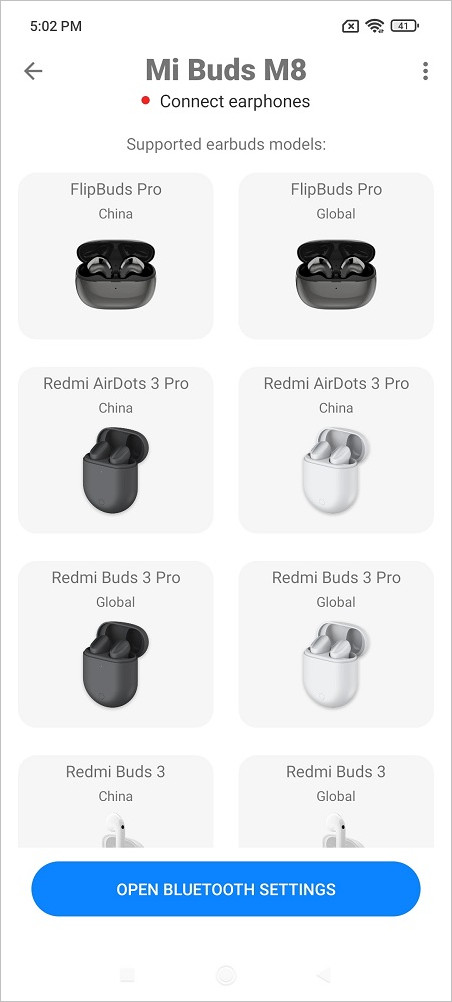 ---
Ultra-Long Battery Life
For most people, charging once a week is not a problem. When using the earbud 3 with the charging case, the headset's overall battery life can reach up to ~24 hours. Approximately one hour less than the 3T Pro model. As mentioned before, The product also supports Qi wireless charging for max user comfortability, making the charging experience more convenient, especially if you are already using a wireless charger.
---
Sound Quality
From our impression, the sound quality was good. If you have stereophonic hearing, you might find minor changes in sound quality compared to the Buds 3 model, but we didn't. We did notice that the bass effect also sounded more noticeable and less flat than the Buds 3T pro model. Overall, we can say that sound quality equals the Buds 3T pro model sold for $170-200.
---
Bluetooth Range
According to Xiaomi product specs, the device supports the latest Bluetooth 5.2 standard with approximately 10m range. We tested and confirmed it could go even higher. If you want to use it in a more extensive range, you will have to use the earbuds in an open space, preferably without walls that can interfere with the reception.
In our test, we got a solid, stable connection in a nearby room located about 6m from our smartphone. We didn't have interferences or disconnections. The 2-4m range is probably more reasonable for using the earbuds.
---
Final verdict
Xiaomi Buds 3 are excellent and well-designed earbuds with a reasonable price tag. The sound quality is good, plus a wireless charging option is included. There are many options to play with we didn't have the opportunity to cover in our review. Overall, we highly recommend buying this excellent product.
---
Xiaomi Buds 3 Review – Price & Availability
The Xiaomi Buds 3 sells for ~$52.96 in Xiaomi's Offical AliExpress store Here. You can also use our Mi UK store link if you are not a great fan of AliExpress.
POSITIVES
Build Quality & Design

Good Sound

Lightweight

High value for the buck

User-friendly Mobile App