Maybe you missed it? Xiaomi Buds 3 Review
---
Xiaomi Buds 3T Pro Review
First launched on the 15 of March 2022, Xiaomi launched the Xiaomi Buds 3T Pro Proactive noise-canceling wireless Bluetooth headset for the global markets with a starting price of $170. We are discussing a new product that can be a decent alternative or equivalent to Apple AirPods Pro earbuds. In terms of battery life with a single charge, the earbuds can last up to 24 hours using a few charging cycles with provided charging case. The Earbuds come in two colors. Carbon black and white. As for other features you can find in this product, you are welcome to check the rest of the article to gain some insights into the value it brings.
---
Xiaomi Buds 3T Pro [Carbon black]
Xiaomi Buds 3T Pro [White]
---
New Features
The Xiaomi Buds 3T Pro has an oval shape and comes with a portable charging case. It features a high-performance noise canceling with a depth of 40dB. Each headset is equipped with a 10 mm composite moving coil unit, built-in three microphones, supports the latest Bluetooth 5.2 protocol, and can achieve a low latency of 69ms on supported mobile phones to ensure an optimal game experience.
---
Xiaomi Buds 3T Pro – Product Intro
---
Xiaomi Buds 3T Pro Highlights
High-end wireless headphones with Hi-Fi Quality sound
Supports wireless charging.
Wireless connection Bluetooth® 5.2
Hybrid Active Noise Cancellation (ANC) up to 40dB
Switchable Light/Balanced/Deep modes, Transparency mode
10mm dynamic transducers with dual magnets
DLC membrane coated with support for professional LHDC 4.0 codec
Support for two simultaneous connected devices
USB-C charging – You only need one cable for your phone and headphones. No more MicroUSB!
Up to 6 hours of headphone life and 24 hours with a charging box
IP55 dust and water resistance certification.
Wireless magnetic earbuds with a 600mAh charging case and up to 20 hours of battery life.
Special Gaming Mode with lower latency.
Intelligent wear detection – playback is interrupted when you take off the headphones and resume when you put them back on.
Each headphone can work entirely independently, you can use only one and leave the other in the case.
Touch controls – Improved touchpad controls for a more accessible voice assistant or Game Mode activation.
10mm dynamic drivers, delivering deep bass and high-quality stereo sound.
---
Wireless Charging Support
The charging case can fully charge the Earbuds up to four times (cycles) before you need to recharge the charging box itself, which according to tech review websites, takes approximately an hour.
---
Ultra-long battery life
The X Buds 3T Pro earphones have an average battery life of 6 hours when the noise reduction mode is turned off and used with the charging case; Battery life can extend up to 24 hours. On top of that, It supports fast charging technology, charging for 10 minutes and listening to songs for 3 hours. In addition, the charging box also supports the Qi wireless charging standard.
---
Automatic Detecting when headphones are on and off
The Smart Wear Detection function is a nice feature to have. Already available in the Apple Earbuds. When you take off one headphone, the music automatically stops, and when you put the headphones back in your ears, the music automatically continues playing. This feature is helpful in everyday activities when you have to take a small break and get the earbud pieces from your ears in favor of other activities. For example, when talking to other people in your surroundings or during sports activity breaks.
---
Xiaomi Buds 3T Pro vs. Apple AirPods Pro
Spatial audio with
dynamic head tracking

Dual beamforming microphones

Up to 24 hours of listening time

More than 24 hours of listening time

Play, Pause, Volume, Next track playing

Play, Pause, Volume, Next track playing

Chargin Case Battery capacity

volumes levles with noise cancelling enabled

3 Active Noise Cancellation (ANC) modes

The earbuds can be simultaneously connected to two devices

Pinch twice to skip to next track Decline incoming cal
---
Xiaomi Buds 3T – Package
---
Xiaomi Buds 3T – Unboxing
---
Package Contents
x1 USB Type-C (Charging Cable)
x1 Replacement Earbud Tips (Small, Medium, Large).
x1 User Guide (Multi-language).
x1 Earbuds + Charging / Carrying case.
---
Xiaomi Buds 3T Pro Design
Earbuds
The Earbud pieces looked well designed and very lightweight. For the external outer surface of the Buds, Xiaomi used a glossy exterior which gives the buds a metallic-type appearance.
Charging Case
In our opinion, The charging case design looked neat. At first look, The case shell resembles an egg-style design with a curved surfaces plastic surface feels present to hold and should slide perfectly into a small pocket. What we wanted to see in a $170 product is perhaps a digital LED display to show the case battery discharging information (Remaining power).
---
Wireless Charging Support
The Xiaomi Buds 3T Pro case supports traditional USB Type-C wired charging, including wireless charging. In our test, we successfully managed to Charge the case using an original 15W (Max) HUAWEI Wireless Charger. Remember that this feature should also work if you have a compatible Qi charger from other brands.
Charging Status Light Indicator
Xiaomi Keep it simple. The charger battery indicator uses a tiny LED light that lights up during the charging process when connected with a Type-C cable or a wireless charger. When additional charging is needed, it will turn red and green when fully charged.
Xiaomi Buds 3T Pro Case placed on HUAWEI 15W Wireless Charger.
---
Operation
Xiaomi placed a pairing on the bottom of the charging case. When the mobile device does not recognize the Earbuds, it's necessary to press the button for a few seconds until they are recognized. In-ear detection function is also a helpful addition. When you remove your Earbuds from the ears, the connected mobile device will automatically enter a pause mode, stopping any activity. This function not only helps during breaks
but also conserves battery power.
Xiaomi Buds 3T Pro | Case & Earbud design
---
Sound Quality
Xiaomi delivered well in the sound quality department. The sound produced by the earbuds was rich and clear, with an excellent noticeable bass effect. When we raise the handest volume levels to the maximum, the sound levels are above average but not too intense for the ears. Plus, we didn't notice any distortion at a higher volume.
AAC Codec Support
If you are an owner of a Xiaomi handset, you have an option to use the latest AAC codec implemented in Apple products. This codec can transmit data at high compression and low latency while maintaining lower power consumption. This experimental feature worked well for us when tested using our POCO X3 Handset running under the latest MIUI 12.5.7 software.
---
A better way to control your Earbuds
Android users seeking a better method to control all Xiaomi Buds 3T Pro functions, such as power usage, Noise cancellation levels, including battery power consumption, can download and install Mi Buds M8. This earbuds control application worked well for us. It supports 12 different languages, plus It's intuitive and straightforward to use, and you got comprehensive support for all of the latest Xiaomi Earbud models under one App.
POCO X3 Handset running Mi Buds M8 Android App
---
Other Special Features
Audio to pause when you remove your earbuds
Like Apple iPod products, the auto-pause when removing earbuds feature worked well for us. Once you remove both earbuds from your ears, it automatically enters an audio pause mode. If you're playing a video, it will also pause it immediately. A useful feature if you're taking a break or need to charge the earbuds and want to get back to the exact spot where you paused.
---
Active Noise Cancellation & Transparency modes, what are the differences?
With Active Noise Cancellation, the microphones detect external sounds that your Eadphones Max counterbalances with anti-noise, canceling the external sounds before you hear them. In contrast, the transparency mode lets outside sound in, so you can listen to what's happening around you.
---
Earbuds Design: Buds 3 vs. Buds 3T Pro
N addition to the rather significant price difference between Buds 3 AND Buds 3T Pro, there are a few design changes worth mentioning; for example, in the 3T Pro model, the talking microphone was moved to the tip of the Earbuds, and charging contacts were re-positioned on the sides. Also, the Earbud of the 3T Pro is shorter by about ~5mm in length compared to the 3 Buds, making it more comfortable and lightweight to wear. Because the 3T Pro Earphones are shorter, the case size is also a bit smaller.
Xiaomi Buds 3 vs. 3T Pro (Right Earphones)
Xiaomi Buds 3 (Left) vs. 3T Pro Case (Right)
---
Software
The Mi Buds M8 is a great neat app with a long list of Xiaomi earbud devices. It's easy to operate and very user-friendly.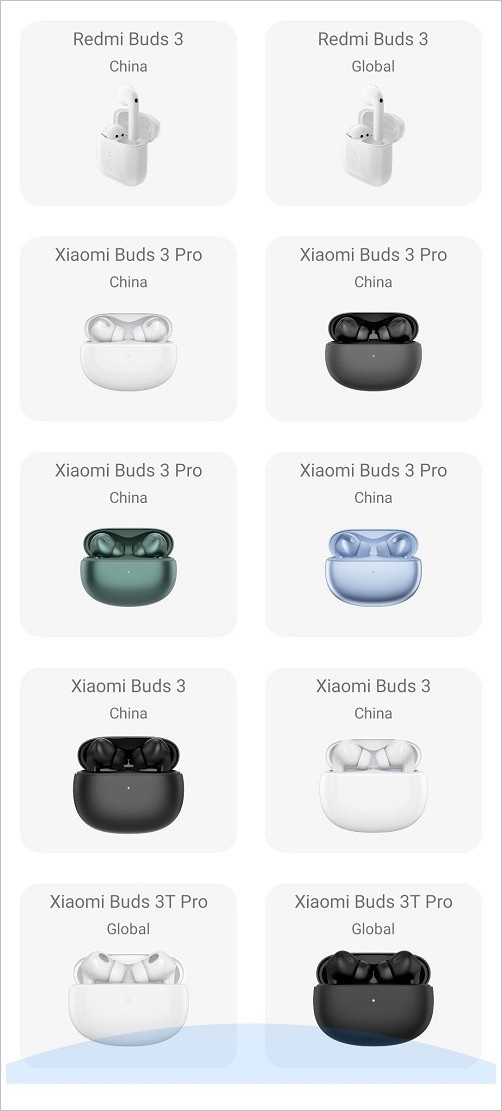 ---
Final verdict
The Xiaomi Buds 3T Pro are excellent earbuds that produce good sound quality combined with good Mobile Software support for Android and iOS. Except for the external appearance, Our ears didn't notice a huge difference in sound quality between T3 Pro and the Buds 3 model; therefore, we recommend Buds 3 model, which currently sells in various AliExpress stores at a price tag as low as $37.
---
Xiaomi Buds 3T Pro Review Summary – Price & Availability
POSITIVES
Design

Build-Quality

Sound

Compact design

Good Software Support

Wireless Charging