Maybe you missed it? Xiaomi AX9000 Review
10Gtek SFP/SFP+ Transceiver Modules series – Information & FAQ.
---
What is and Ethernet Copper 10BASE-T SFP+ Transceiver Module?
10Gtek SFP+ 10GBASE-T copper transceiver is a high-performance integrated duplex data link for bidirectional communication over copper cable used to implement 10G Ethernet transmission 10GBASE-T, which is that it allows users to capitalize on their existing Category 6 (CAT.6A) and Category 7 (CAT.7) copper cabling systems. Its interface is RJ-45, which supports shielded and unshielded twisted pairs. Its maximum transmission distance is up to lengths of 30 meters, with a good maximum throughput of 10 GB/s.
This first SFP+ transceiver offers 10 GB/s communication over this media type. 10Gtek, a leading supplier of compatible optics and cables for high-performance data center servers and storage systems, has been providing the SFP+ Copper Transceiver 10GBase-T, Cat 6A/7, 30M since 2016.
---
Product Intro video (10Gtek ASF-10G-T 80m Series)
---
10Gtek ASF-10G-T Series
The 10GBase-T, copper transceiver module, is a high-performance integrated duplex data link for bidirectional communication over copper cable. 10Gtek 10BASE-T copper transceivers are available in 30m and 80m editions. The 30m model uses the PHY Broadcom BCM84891 chip, while the Marvell 88E1111 chip powers the 80m model. Both follow IEEE 802.3 MSA requirements at the highest standards. Low energy consumption and high durability – The energy dissipation and heat-conducting gasket of less than 2.5 W provide a superior heat dissipation function to dissipate the module's heat and increase its lifetime.
---
Package Contents
1x User Manual (Chinese & English).
1x 10Gtek 10BASE-T copper transceiver (The package can also contain a pair).
10Gtek ASF-10G-T (80m) Series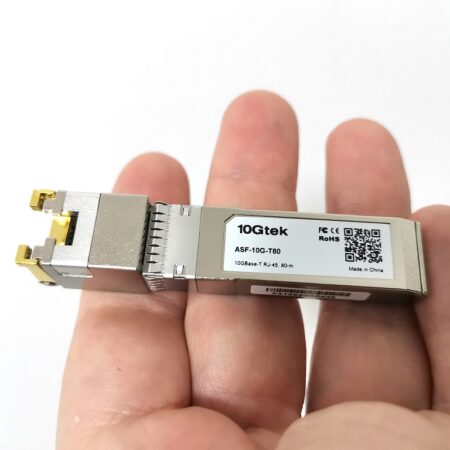 10Gtek ASF-10G-T teardown (Metal shell+PCB)
---
Main Features
Interface: RJ-45.
Uses Broadcom BCM84891 PHY / Marvel 88E111 PHY chips.
Longer transmission distance – Up to 80 meters over CAT.6a/CAT.7/CAT.8;
Plug and play operation.
Data Rate: 1.25G/10G, multi-rate.
Eco-friendly packaging made of iron.
Ultra-low power consumption & generate less heat(1.6W C10Gbps 30m,2.0W 110Gbps 80m).
Broad Compatibility – for Cisco, Fortinet, Ubiquiti, Netgear, D-Link, TP-Link, Linksys, Broadcom, Edge-core, EMC, F5, Meraki, Nokia, QTC, Supermicro, and Other Open Switches.
---
Comparison: 10GBASE-T Cabling vs. 10G SFP+ DAC (Direct Attach Copper)
The comparison shows that 10GBASE-T cabling and 10G SFP+ DAC have advantages. SFP+ copper cabling is more suitable for data centers, and the 10GBASE-T cabling will be better for cabling cabinets due to its flexibility and low cost.
10GBase-T (advantages)
SFP+ DAC (advantages)
Cheaper to deploy and easier to install and migrate.
Significantly lower overall cost when you include the cost of deploying the switch, network card, and easier installation and migration.
Much longer reach, 100 meters vs. 8.5 meters
Lower latency — 300 us per hop vs. 2.6 us per hop
Standard RJ45 connectors and Cat 5/6/7 cables.
Lower power and lower heat
Use of patch panels and structured wiring
Freely intermix fiber and DAC to meet distance requirements
Backward compatible with 1 gigabit Ethernet
or 100 megabits Ethernet.
---
Does the 10GBASE-T module tend to heat much during operation?
The temperature values tend to be very high. The estimated power consumption of the 10GBASE-T is 1.5w. Its heat generation is very high, and the high temperature can be felt during use. The switches with multiple SFP+ interfaces cannot be fully equipped with 10GBASE-T. As for the maximum number of 10GBASE-T that can be fitted, it depends on the switch capability.
---
10Gtek SFP+/SFP Transceiver Modules (Models List)
What is a Media Converter?
A media converter is a specific network device that converts the electrical signal used in a copper cable to a light signal for optical fiber cabling and vice versa. Fiber optic connectivity is essential if the distance between two network devices exceeds the transmission distance of copper cabling.
They were first introduced into the industry in the 1990s and played a significant role in the types of cabling fiber associated with the existing copper-based cabling system. They were introduced into the industry in the 1990s and played an essential role in the types of wiring fibers related to the current copper-based wiring system.
---
10Gtek G0200-SFP OEM Media Converter
This converter is designed with a pair of SFP+ slots and is fully compatible with the 10Gtek SFP+ -T modules series. It's available in two editions, 30 m and 80 m. Depending on the module type, 10Gtek company also offers optical modules capable of supporting distances of 300 m, 2 km, 10 km, 40 km, and 80 km.
---
Maximum Compatibility
Because the 10Gtek G0200 media converter series are designed to work with SFP and SFP+ modules, you can enjoy both worlds with maximum compatibility. The product has been tested using 10Gtek ASF-10G-T 10G BASE-T Copper modules and fiber optic modules on CAT.6a/7 cabling. 10Gtek company also included a detailed list of supported and tested modules in their user manual that we recommend you refer to.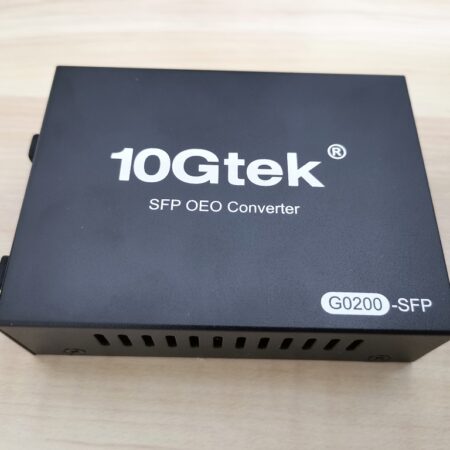 ---
10Gtek G0200 Media Converter (Hand-view)
---
10Gtek G0200 Media Converter
Testing with a pair of SFP Modules:
We used a none branded 1.25G 14490/1310 SM (Single-Mode) SFP LC and an RJ45 2.5G TP-LINK SM SFP module. In our simple test, we checked maximum throughput using Speedtest by Ookla Windows App connected to a nearby local ISP server.
| | | |
| --- | --- | --- |
| No. | Throughput / Distance | Model |
| 1 | 2.5G / 30m | TL-SM410U (RJ45) |
| 2 | 1.25G / 20km | GE-LX-SM1490 BiDi (LC) |
Throughput test with Ookla Speedtest App
Based on the Internet plan of 1Gbps / 100Mbps, our satisfactory results show that both SFPs are fully compatible with the SFP+ ports, reaching a maximum throughput of 940Mbps / 110Mbps.
G0200-SFP (2.5Gbps Throughput configuration)
Notable credits to aka as itfan from HT magazine website for confirming another possible working configuration that works with Israel Bezeq Fiber telecommunication company based on Gigabyte Passive Optical Networks (GPON) technology. According to his testing, it's possible to achieve a maximum throughput of 2.5 Gbps by combining a pair of SFP modules. This will require the following components/elements:
| Item No' | Brand | Model | Buy Links |
| --- | --- | --- | --- |
| 1 | 10Gtek | G0200-SFP Media Converter | Get It Now |
| 2 | Nokia | G-010S-A GPON ONT SFP Transceiver | Get It Now |
| 3 | NVOC | Ethernet rj45 SFP Transceiver | Get It Now |
---
10Gtek Transceivers Co., Ltd
China's leading high-speed cable and transceiver supplier.
The company is an ISO14001 & ISO9001 certified manufacturer founded in 2008 with headquarters in Shenzhen, China. We offer the total solution of high-speed interconnect link, providing compatible cables 10G SFP+, 10G XFP 40~56G QSFP+, 100G QSFP28 copper, and AOC and optical modules. All 10Gtek products have RoHS, CE, and FCC certifications.
---
---
FAQs about 10GBASE-T Copper Ethernet Transceivers
Can I use a 10 Gigabit electrical SFP+ module (10GBASE-T) with a Gigabit SFP module (1000BASE-T)?
Yes. A multi-rate version of a copper transceiver supports 1-10 Gigabit.
Is the SFP 10GBASE-T module pluggable?
Yes. Please note that frequent plugging and unplugging may affect the working life of the module, so frequent plugging is not recommended.
Small form-factor pluggable (SFP)