Wipao S3 Android Projector
The Wipao S3 Android Projector is an advanced Powered Texas Instruments DLP Projector, based on the Allwinner H8 Octa-Core processor running at CPU clock frequency up to 1.8 GHz. The Projector is a fully independent All-in-one portable projector, which combines both Android set-top box features and a projector unit in the same product.
S3 hardware specifications also include 1GB of RAM, 4GB eMMC internal Flash powered with Android KitKat Operating system. On the backside of the unit, you have a wide selection of external interfaces such as Micro SD Slot, OTG, four USB 2.0 Hosts, Headphone jack, SPDIF, LAN. The S3 offers three different video input interfaces: HDMI, VGA, and AV that can be used with any external media devices or set-top boxes. The S3 also comes with a built-in speaker system, including WiFi connectivity and Bluetooth support, making this product a complete home media solution for running Android apps, games, browsing the internet, streaming videos and more.
Wipao S3 Android Projector
---
---
Wipao S3 Android Projector parameters
Operating System: Android 4.4
SoC: H8 Allwinner Octa-Core Cortex-A7 up to 1.8GHz
1GB RAM + 4GB eMMC Flash (Depending on Model)
GPU: PowerVR SGX544MP up to 700MHz
Included are built-in speakers.
Movie Modes: 2D/3D
Brightness – 500 LED lumens
OSD Languages: Chinese, English
Native Resolution: 1080P (1920×1080)
Supported Resolution: WXGA (1280×800),
Contrast – 5000: 1
Projection light source – RGB LED
Display Technology – DLP Pico
Projection Lens: F31 high-gloss coated lens
Illumination uniformity> 98%
Projection Screen Size: 15-300 inches
Projection Distance 0.5-8 m
Lamp Life (Hours):30000
Screen aspect ratio: 10/16:9/4:3
Throw ratio – 100 inches @ 2.5M
Focusing method – Manual Focus
Display scanning frequency – 50Hz, 60Hz, 120Hz
Power Adapter: DC 19V 3.78A
Video-Input Interfaces – HDMI VGA AV
Storage Interfaces: Micro SD, 4xUSB 2.0, OTG
Sound Interfaces – 3.5 mm Headset, optical, coaxial
Connectivity: Built-in WiFi, LAN
Color: Gold, White
Power Consumption: 60W
Dimension(cm): 36*30*14
Net Weight (kg): 0.8
S3/S5 Projector Package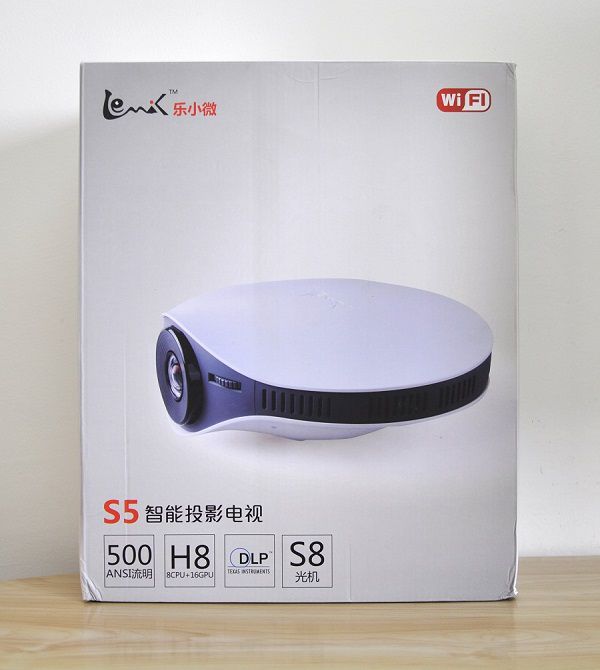 ---
S3 Projector Package Content (Excluding Projector)
x1 DC19V / 3.78A Power Supply
x1 Power Supply Unit Power Cable
x1 IR Remote Control
x1 AV Extension Cable
x1 User Guide
S3 Projector: (Full Package)
x1 S3 Smart Projector
x1 Power supply Unit
x1 Power Supply extension cable
x1 IR Remote Control
x1 AV Extension Cable
x1 User Guide
---
Appearance
The S3 has a round shape with a white-coloured glossy surface. It's not the typical squared shape of a case you normally find in traditional projector designs. On the perimeter of the case, you can find a series of ventilation slots for keeping the unit cool, as well as additional venting located in the base to let the extra heat out of the case.
Wipao S3 Android Projector | Full View
---
Interfaces
On the rear side of the S3 projector, you have the power button, DC input, SPDIF, 4x USB 2.0 Ports, OTG including three video input interfaces: HDMI, AV, VGA.
---
Operation
It was not hard to figure it out and to understand how to operate the device. Adjusting projector brightness and contrast settings, calibrating the shape of the picture are done through Android settings and also use the projector settings screen, which is more intuitive and user-friendly.
In the IR remote control unit, you will find all the projector functions. There are no other operating buttons on the projector unit itself, except the power button, which, in a user perspective, is very limiting. On the back of the device, there are three optional types of video input sources: VGA, HDMI, and AV to be used by external devices to pass the signal through the S3 unit.
Mini PC Connected to The S3 Projector HDMI Input
If for some reason you need to switch back to default projector mode from one of the video source inputs, and you lost the remote, then you are in a big problem switching back to projector mode. After clarifying this limitation, The S3 remote offers additional basic functions such as fly mouse using the navigation keys. Still, for something more convenient, it's highly recommended buying an excellent remote control with fly mouse functions that are easier to operate.
Wipao S3 Android Projector | IR Remote
---
Controlling Picture Settings
Depending on the distance of the unit from the wall, the viewable projected image size is approximately 15–300 inches (diagonal) within a range of 0.5-8m. To control the picture settings, you have a vertical and horizontal keystone correction button located on the remote control and can also adjust through the projector settings screen. This function helps the user to correct the image shape in situations when the unit is not fully aligned relative to the wall.
---
System & UI
The default ROM installed with the S3 came bundled with a few pre-installed popular applications such as UC TV, Kingsoft Office suite, WiPao Cloud, HDP live (live-streaming service) and a few others, relevant to Chinese users.
For this review, I received a new customized Firmware in the English language with Google Play Store, access which isn't included in the default firmware since google services are blocked in China. That said, from first impression playing with its device run applications and games under Android 4.4 KitKat OS very smooth and fast without issues.
---
Hardware & Benchmark
As mentioned previously, the S3 Hardware platform is based on the Allwinner H8 and PowerVR SGX 544MP GPU. CPU-Z Application for some strange reason misreported the hardware as a dual-core Allwinner A23 SoC which isn't correct.
Hardware performed well running under Android 4.4 (KitKat) OS. It's also important to mention that each CPU core operates at a clock frequency between 480 MHz – 1.80 GHz and not all always operate simultaneously; those that work dynamically depending on consumed system resources.
CPU-Z & AnTuTu Benchmark Test
---
Picture Quality
My impression after playing with the projector for a few days in a completely dark and semi-dark environment is that the product works extremely well, providing good quality image; even when the brightness level is on 50% the picture was clear and sharp. The only downside of this product is that to change the focus when placing the unit in different distances from the well you need to do it "manually" using the focus wheel located on the front side of the S3 Unit.
---
Final verdict
The S3 is a great product. I enjoyed using it for watching YouTube and streaming movies. Device performance, sound, picture quality were all good. The external round shape is something you may need to get used to, but overall it's an excellent product. For further details, you are welcome to contact the company (contact card below).