---
Huawei Wi-Fi AX3 Pro
Huawei WiFi AX3 Pro Review – Hand-out covering the router features.
Huawei released two WiFi 6+ router products AX3 and AX3 Pro. Huawei new AX3/Pro series is equipped with a powerful quad-core 1.4GHz CPU and support a large bandwidth of 160MHz. Compared with traditional WiFi 6 routers, the close-up speed is almost doubled.
Huawei AX3 series routers also support narrow dynamic bandwidth: by reducing the bandwidth of the mobile phone backhaul router, the signal strength can be increased by up to 6dB at the same transmit power, and the wireless speed of 3000Mbps can achieve an extra wall through a long distance. Wi-Fi 5 mobile phones and tablets with a large bandwidth of 160MHz, such as Mate30/20 phone series, P30 series, MatePad series and tablet M6 series, will be able to make use of faster speeds with Huawei Wi-Fi 6+ supported routers.
Besides, AX3 series routers also support one-touch connection, turning on the NFC function of Android phones, and touch the NFC area to join the Wi-Fi network without a long pairing process where the user needs to enter a pairing confirmation code. It also supports mobile game acceleration/net class acceleration/remote office acceleration and children Internet protection.
More content you might find interesting:
---
Package
---
Unboxing
Package Content:
1x 12V-A2A Power adapter.
1x User Guide (Chinese lang.)
1x AX3 Router
---
Appearance & Design
The Huawei WiFi AX3 Pro comes with a very clean and modern design. Its four foldable antennas are designed for maximum portability. Haiwei invested highly in the external design that is unique and allows the user to completely fold the antennas and also protect them so it can be carried easily in a small bag.
Operation light status Indicator
Located on the front side of the Huawei WiFi AX3 Pro, there you will find a status light indicator that turns orange when the router has no internet link, and it turns yellow in regular work operation mode.
---
Web interface for configuring the router
The AX3 Pro web interface is in Chinese. Just after connecting the router network ethernet cablets, you will automatically be redirected to the router's main login screen. As part of the initial process, you first need to configure your 5Ghz and 2.4Ghz network names, including passwords. After this step, the router will automatically connect to the internet.

Once an internet connection is active, then you can use the google translate tool to navigate through all of the router settings. For full English support, users would find it much easier to install the 'Huawei AI Life' mobile app by scanning the QR code.
Main Interface (Translated to English)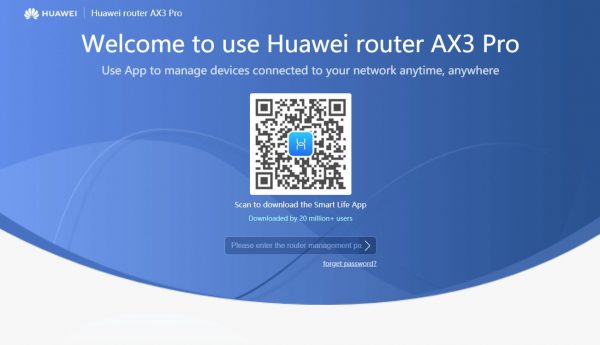 ---
Software
The Huawei WiFi AX3 Pro can be fully managed via 'HUAWEI AI Life' that also supports English. As for configuring different options through the web interface, it's also very user-friendly but only supports the Chinese language. If you still want to work with the Web interface, Its easy peasy. You can use Google translate tool option the comes built-in in every compatible chrome browser. You just need to click your mouse on the webpage right, and all Chinese characters are instantly converted to English or other languages of your choosing.
From my personal experience 'HUAWEI AI Life' app is more unfriendly and easy to manage compared to Xiaomi's Mi-WiFi App. To operate the device as the first step, you will need to pair with the AX3 device by enabling both Bluetooth and location settings on your phone.
Xiaomi Mi Wi-Fi vs. HUAWEI AI Life App | Mobile App Main Screen
---
Hardware specification
On the software side, Huawei offers two editions of the AX3 router. The AX3 (Basic) Edition equipped with a dual-core CPU and the AX3 Pro with a more powerful quad-core CPU and additional RAM.
Huawei uses its own hardware solution based on GigaHome 650 chip designed for home routers. According to Huawei announcement, The GigaHome 650 home router chipset is an all one solution for a diverse range of connected devices. The main architecture of chipset includes power line communication (PLC) chip, and CPU chip.
The new WiFi chip supports up to 3 Gbit/s peak throughput, at a peak frequency bandwidth of 160 MHz with two antennas. Powered by Huawei's 5G algorithms, this chipset offers attributes such as interference avoidance and multi-user scheduling while integrating 2G and 5G dual-band support in a single chip. GigaHome 650 has quad-core Cortex-A53 CPU that clocks at up to 1.4Ghz, with the help of a Wi-Fi offloading unit that provides powerful computing performance for a variety of applications installed on the router while allowing a maximum bandwidth of 3 Gbit/s.
The Chinese tech giant says the GigaHome 650 comes with its own level of data security that's guaranteed by TrustZone technology. "These Wi-Fi solutions will take Wi-Fi connectivity to a new level and will deliver seamless Wi-Fi coverage for Internet calling, online gaming, streaming video, online learning, and even working from home." Huawei.
Redmi AX5/Huawei AX3/Pro Specifications comparison
| | | | |
| --- | --- | --- | --- |
| Router | Redmi AX5 | Huawei AX3 | Huawei AX3 Pro |
| SoC | Qualcomm IPQ6000 5 core SoC | Gigahome 2-core SoC | Gigahome 4-core SoC |
| Cores | 5 (4 CPU + 1 NPU) | 2 (CPUs only) | 4 (CPUs only) |
| CPU | 4 x Cortex A53 @1.0GHz, 14nm | 2 x Cortex A53 @1.2GHz | 4 x Cortex A53 @1.4GHz |
| NPU | Yes, 1 x NPU (1.5GHz) | No | No |
| RAM | 256MB | 128MB | 256MB |
| ROM | 128MB | 128MB | 128MB |
| Supported Devices | 128 devices (advertised) | 128 devices (advertised) | 128 devices (advertised) |
One-Touch NFC
A nice feature you will not find in many router products is the One 'Touch NFC' that lets you connect almost instantly to your wireless network using your phone NFC. It saves the user approximately 1-2 minutes of searching for a local network name and manually entering the network password.
---
Automatically select WAN port
Under 'Network port settings' you will find the 'Automatically select WAN port' and 'Fixed WAN port' options, that let you define your preferred fixed WAN port located next to the power interface, or use any of available ports numbered from 1 to 4 as your default WAN port.
---
WiFi 6 Certification
Because Huawei has plans selling this product globally worldwide, Huawei AX3/pro series is also a Wi-Fi CERTIFIED 6 device, which means that the product has gone through the Wi-Fi Alliance's certification process. Therefore you don't need to be concern about any electromagnetic radiation problem as it follows all the necessary standards and regulations to assure its safety. To verify this is true, you can view the "Wi-Fi 6 Certified" logo located on the button of the device.
---
Connectivity
Preparing for the near future is always a good thing. The AX3/Pro series has everything you need, supporting the latest new WiFi 6 Plus that is an improved version of the existing WiFi 6 standard with a significant improvement in providing extra 160 MHz frequency bandwidth, those achieving a total maximum theoretical bandwidth of up to 2976 Mbps for 2.4 GHz and 5 GHz combined.
Inside The AX3/Pro software settings, you will find similar configuration settings as on Xiaomi's Redmi AX5 router. You have an option to combine both 2.4 GHz and 5 GHz under the same network name or set them separately. I guess some users would prefer to set them induvial according to security and personal preference.
Huawei AX3 Pro | Network Configuration settings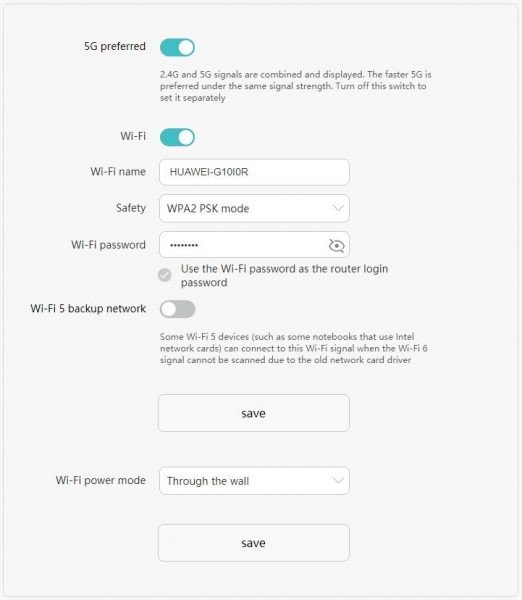 Huawei AX3 Pro | Web Interface (browser) access
---
WiFi Signal Coverage & Bandwidth Testing
When I connected my Huawei P20 phone in the same spot in a nearby room with an open door, the WiFi signal and available bandwidth using a 5 GHz connection were pretty much at the same range of 195-292 Mbps as with the Xiaomi Redmi AX5 router.
Point #1: 195-292 Mbps
Point#2: 866 Mbps (1m distance from the router).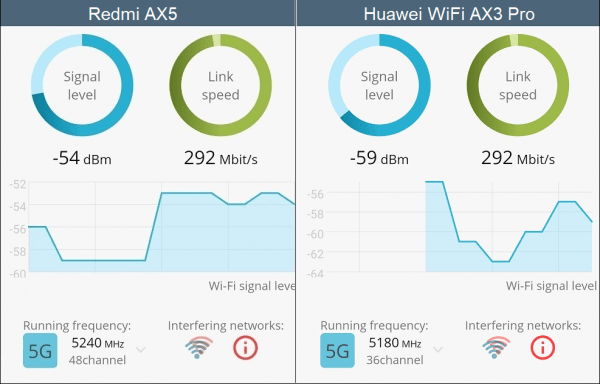 ---
Firewall & Security
In the security arena, Huawei invested highly in implementing plenty of useful functions that every user would be pleased to have to provide maximum security and protection. Few settings are more relevant only for the Chinese market. For example, with the advanced parental control options let you limit children's activities to specific parameters such as payment, app installs, video services, social platforms, and games only support popular Chinese video service providers and exclude youtube.
I expect that soon when an international firmware update will become available. It's most likely to be able to update your AX3 router with international global software in English and enjoy more options related to Google as well as other services that are accessible outside of china mainland.
Security & Protection Features:
Brute force attack
Wi-Fi stealing prevention
Anti-hijacking
Safe internet
Smart device safe
Parental control – payment services, app install, video services, social, games.
Guest Wi-Fi (Create a separate secure network for improved security).
Huawei AX3 Pro | 'HUAWEI AI Life' Firewall Settings
---
NAT Service
Another handy feature related to security settings is the NAT service configuration section. There you can enable and map specific ports.
---
Mesh Networking
Simple and easy-to-use Mesh networking, easily covering the whole house.
WiFi single coverage is a problem in most households. It makes it very problematic when we need to use two or three wired or wireless routers to increase signal coverage. The most reliable method is AC+AP, but this method requires the same network wiring in advance.
In a two-mesh router network configuration, it is essential to select a faster Wi-Fi device in actual scenarios automatically. Many routers are not that great in switching or match the best signal, and automatic switching often fails to respond. With the HUAWEI WiFi AX3 Pro device, the phone will automatically connect to the nearest mesh unit.
---
Price
After Xiaomi's first Wi-Fi 6 router launch, the AX3600 AIoT router received very high praise user reviews for its flagship hardware and excellent user experience. As the second product of the Xiaomi WiFi 6 router, the Xiaomi router AX3 series have a lower price threshold starting at $54 for the basic dual-core CPU model, and it contains the most advanced security features any user will need.
---
Redmi AX5 vs Huawei AX3 Pro which one is better?
Huawei clearly invested lots of resources in the software side of the product by adding tons of useful features that don't exist in the Xiaomi's Redmi AX5 router. plus, it also supports the latest new WiFi 6 plus standard. Both devices, in my opinion, are super great and are perfect for users that need a great home router at a very low-cost price tag.
---
Redmi AX5 vs Huawei AX3 Pro Features Comparison
To make things a lot more simple, we composed a table with a list of features for both Xiaomi AX5 and HUAWEI AX3/ Pro routers listed below.
Redmi AX5 vs. HUAWEI AX3/Pro

2.4 GHz: 574 Mbps
5 GHz: 1200 Mbps

2.4 GHz: 574 Mbps
5 GHz: 2402 Mbps


Wi-Fi stealing prevention

Guest Wi-Fi
(Network isolation)

Built-in WPS pairing Button

Can setup according to Days/Hours/Week

Assign device name types from a preset list

Realtime conection information

Automatic WiFi channel adustemnt

Deny internet access schedule

Blacklisting/Whitelisting
device access lists

Network Speed limit
(Wired & WiFi)

NAT
(Port Mapping / trigger)

DDNS
(Dynamic Domain Name Server)

Static IP address binding
---
Final Words
The Huawei AX3 Pro is a fantastic product that is cost-effective, easy to manage, and packed with great features that you might find in high-end router devices. If you are looking for a home router without burning a hole in your pocket, then this is an excellent choice.
---
Review Summary
Huawei AX3 Pro
Excellent security settings
---
Where to buy
Huawei AX3/Pro router is currently on sale in the official Banggood store (clicking on the large button below), and you are also welcome to make use of the coupon codes during the checkout step to get some extra discount.
Banggood
Price: $86.49 (Before discount)


Note: Delivery charges may vary depending on the destination country.
Free Discount Coupon (Worldwide)
Coupon code: BGN0532K
Discount: 10% OFF


Note: Valid after applying the discount coupon code during the checkout process.
Free Discount Coupon (For Israel)
Final Price: $74.99
Free shipping: Included

Note: Valid after applying the discount coupon code during the checkout process.
---
Disclaimer Statement:
This site contains affiliate links to products. We may receive a commission for purchases made through these links.