Mi Router AX1800 WiFi 6 Router Review – Comparing specs & performance.
---
Xiaomi Mi Router AX1800
Xiaomi Router recently released its second WiFi 6 router, the Mi Router AX1800. This router has a lower price threshold than the previous Xiaomi AIoT AX3600, with similar specs to the Redmi AX5. It can also be perfectly adapted to support the WiFi 6 in performance. The device, connection stability, or speed is an excellent entry choice for the current WiFi 6 router.
WiFi 6 (802.11ax) is a new generation of WiFi standards. Compared with the previous generation of WiFi 5 (802.11ac), the transmission rate, signal coverage, and data delay have greatly improved. Especially in the scenario where multiple devices are connected simultaneously, the WiFi 6 router can significantly reduce data delays and stalls. At the beginning of the year, with the release of various Android flagship phones, the WiFi 6 standard has also been adopted by multiple manufacturers many times and gradually became the standard for mobile phones in the 5G era.
The price of WiFi 6 routers has also become cheaper for consumers. The Xiaomi AX1800 released this time can perfectly match for popular Xiaomi 10, Samsung S20, and Apple iPhone 11 series handsets while also providing WiFi 5 compatibility.
---
Appearance & Design
At first glance, the AX1800 looks like a Xiaomi AI speaker product. The Mi Router AX1800 released this time changed the horizontal layout of the previous AX3600 antenna design. Using a vertical design style similar to the AC2100 previously released, the overall appearance of the Mi Router AX1800 is a rectangular parallelepiped, which hides the external antenna design of the router. Get rid of the design constraints of the physical antenna, confuse the two antennas in the middle frame, and achieve 360-degree comprehensive single coverage.
At the top of this router is an "X" shape segment, which divides the square router. The running indicator is set at the lower position in front of the corner of the rectangular parallelepiped. In the rear are the design of the network cable interface and power socket. The outer shell of the whole machine is fixed with a buckle to fix the outer shell and the middle frame.
Xiaomi added a series of cooling slots along the X shape and holes on the bottom of the device to let the heat out of the device case. The router uses a tower cooling structure design, with ample space inside the vertical to form significant channel convection; the large-size metal heat sink assembled inside provides an excellent heat dissipation guarantee for the stable operation state of the router.
---
SoC with integrated NPU
The Mi Router AX1800 adopts the configuration of a 4-core CPU + single-core NPU. NPU is a network acceleration engine of the processor used to process and forward continuous small data packets. In theory, it can increase the routing throughput by 21%, reduce the CPU data consumption, and reduce the CPU load.
---
Hardware Specification
The processor of the Xiaomi Mi Router AX1800 uses a 14-nanometer process, which is better than the 28-nanometer process of many WiFi 6 products currently on the market. This advanced technology can give total efficient processor capacity, and at the same time, it provides better control over heat dissipation, power consumption, and stable performance. With the tower cooling design, this router can always maintain an average operating temperature maintaining good performance.
---
Connectivity & Security
The router, the infrastructure for networking appliances in the home, plays a vital role in the smart home ecosystem. Regarding device access, the Mi Router AX1800 is equipped with 256MB of large memory and theoretically supports 128 devices simultaneously. In addition to being able to access many devices, the Xiaomi router AX1800 can also monitor mainstream IoT devices for security and privacy vulnerabilities on the Xiaomi WiFi App to protect the network security of the smart home ecosystem.
---
Device Management
When the Xiaomi smart device is connected to the network for the first time, it will sync with the Mijia APP setting, and there is no need to enter a password manually. The Mi Router AX1800 continues many of the previous AX3600 excellent features, such as children's Internet protection, visitor WiFi, anti-rub network, WiFi optimization, and many other functions have been kept users can directly set the corresponding on the Xiaomi WiFi App.
---
Mesh Networking
Xiaomi Mi AX1800 also supports OFDMA, MU-MIMO, other technologies, and multiple Mesh networking. OFDMA technology allows the router to complete the data transmission of up to 8 devices in one connection. The network delay can be reduced by 66%; MU-MIMO makes multiple people surfing the Internet a smoother experience. 
Many large-scale users need multiple routers for Mesh networking to cater to the needs of different complex types. Mi Router AX1800 can also do it. Through subsequent upgrades, Xiaomi AX1800 can perform Mesh networking with the AX3600 to further expand WiFi Signal coverage throughout the house.
---
Target market
Ethernet broadband has upgraded to gigabit bandwidth. For non-heavy users, it can perfectly fit with phones and other mobile devices and use at home or office, supporting the latest WiFi 5/6 standards. When you usually use the network to watch videos, play games, and connect multiple smart devices to control, a Mi Router AX1800 is more than capable of doing all these tasks.
---
Specification
| | |
| --- | --- |
| Hardware configuration | |
| CPU | Quad-core IPQ6000 A53 1.2 GHz processor |
| Network acceleration engine | Single Core 1.5 GHz NPU |
| ROM | 128 Mb |
| Memory: | 256 Mb |
| 2.4 GHz WiFi: | 2×2 (maximum IEEE 802.11ax protocol support, theoretical maximum speed up to 574 Mbps) |
| 5 GHz WiFi: | 2×2 (maximum IEEE 802.11ax protocol support, the theoretical maximum speed can reach 1201 Mbps) |
| Product Antenna | Two integrated dual-frequency antennas |
| Product cooling: | Natural cooling |
| WAN interface | x1 10/100 / 1000M adaptive WAN port (Auto MDIMDIX) |
| LAN interface | x3 10/100 / 1000M adaptive LAN ports (Auto MDIMDIX) |
| Led indicator | 2 (system indicator * 1, Internet indicator * 1) |
| System Reset Button: | 1 |
| Power Input Interface: | 1 |
| Protocol Standards | IEEE 802.11a / b / g / n / ac / ax, IEEE 802.3 / 3u / 3ab |
| Certification Standard | GB / T9254-: 2008; GB4943.1-2011 |
| Dual frequency | 2.4 GHz and 5 GHz |
| Wireless Channel | 2.4 GHz channel: 1,2,3,4,5,6,7,8,9,10,11,12,13 |
| | 5 GHz channel: 36,40,44,48, 149153157161165 |
| Modulation | 11b: DSSS: DBPSK (1 Mbps), DQPSK (2 Mbps), CCK (5.5 / 1 Mbps) |
| | 11a / g: OFDM: BPSK (6/9 Mbit / s), QPSK (12/18 Mbit / s), 16QAM (24/36 Mbit / s), |
| | 64QAM (48/54 Mbps) |
| | 11n: MIMO-OFDM: BPSK, QPSK, 16QAM, 64QAM. |
| | Bet Set: MCS0 ~ MCS15 |
| | 11ac: MIMO-OFDM: BPSK, QPSK, 16QAM, 64QAM, 256QAM. |
| | Speed ​​dial: MCS0 ~ MCS9 (support 2 streams) |
| | 11ax: MIMO-OFDM: BPSK, QPSK, 16QAM, 64QAM, 256QAM, 1024QAM. |
| | Speed ​​dial: MCS0 ~ MCS11 (support 2 streams) |
| Software Parameters: | |
| Operating system: | Smart WiFi operating system based on OpenWRT deeply tuned MiWiFi ROM |
| Wireless Security: | WPA-PSKWPA2-PSKWPA3-SAE encryption, wireless access control (blocklist and allowlist), SSID hiding, anti-friction intelligent network |
| Management Application: | Support web, Android. Ios |
| Product Features: | Manual (including three packs of cards) * 1 |
| Network cable | x1 |
| Product Power Supply | x1 |
| Ambient operating temperature: | 0 ~ 40 ℃ |
| Working humidity: | 10% ~ 90% RH (non-condensing) |
| Storage temperature: | -4 -70 ℃ |
| Storage Humidity: | 5% ~ 90% RH (non-condensing) |
---
What's in the box
Inside the package, you will find the following items:
1x Mi Router AX1800.
1x User Guide.
1x Power adapter.
1x Network Cable (Type Cat5e).
---
Software
The software powering all Xiaomi routers is called 'MiWiFi.' Based on the popular open-source OpenWrt framework. All Xiaomi router devices run 'MiWiFi' software, which is very easy to configure and set up. You can use the 'WiFi Mi mobile app to manage all of your Xiaomi devices. Although the web interface only supports the Chinese language, the 'WiFi Mi' mobile app also supports multiple languages, including English. You can add additional router devices to create a local mesh array network to increase signal coverage. Manage all of Xiaomi's smart home appliances effectively under Xiaomi's platform.
---
Web interface for configuring the router
All of the settings of the Mi Router AX1800 are simple to understand and require minimal technical knowledge. The AX1800 web interface only supports Chinese, but once you connect the Mi Router AX1800 to the Internet, you can use the google translation tool in your web browser and pick a preferred language to translate.
Mi Router AX1800 web interface | Login Screen
(Translated to Eng. with google)
Mi Router AX1800 web interface | WiFi Settings
(Web interface Translated to Eng. with google)
MiWiFi | Mobile App
---
Experience using Mi Router AX1800
Our general user experience was good. The Mi AX1800's unique tower design with a squared-shaped base measuring just 97mm has its advantage as it doesn't occupy as much space as a traditional router when placed on a table or even an upper small-sized shelf. It also looks very modern and will blend well with your living room.
LEDs for Operational Status
Xiaomi added a pair of LED lights that indicate the Mi Router AX1800 device operation modes. When both lights turn blue, it means that the router is working and established an internet connection, and vice versa turn orange if the device is disconnected or in a booting process step.
---
Security
This day's cybersecurity is becoming a big issue, especially during the COVID-19 outbreak, as many of the population work remotely from home. Xiaomi integrated a few applicable security settings that are straightforward to manage through the 'MiWiFi mobile app.
Under the 'Security Center' settings, you have options to block access for specific devices based on their MAC addresses. You can add mobile devices manually or automatically from a list of devices currently connected to the Mi Router AX1800. Few other useful advanced options also include QoS settings to limit users' bandwidth or schedule an internet disconnection time.
QoS intelligent speed limit
(Translated to Eng. with google)
Adding device MAC Address to White / Blacklist lists
(Translated to Eng. with google)
Firewall
Xiaomi firewall settings are average and not too advanced for professional IT security persons. You can forward specific ports according to your security needs, but as a user, you don't have too many options to play with compared to the Huawei AX3. The firewall offers three fixed preset protection levels: High, Medium, and high.
DMZ (Demilitarized Zone) – The DMZ option allows you to map an IP of a specific device on the internal network to the external network to facilitate access to the device from the external network.
UPnP (Universal Plug and Play) – Considered less secure as it permits networked devices, such as personal computers, printers, Internet gateways, WiFi access points, and mobile devices to discover each other's presence on the network seamlessly, those can pose a potential security risk.
---
Mi Router AX1800 vs. Redmi AX5, which one is better?
According to our tests, checking the signal reception in 3 different spots at a 100 sq. ft apartment home, to our surprise, both Mi Router AX1800 & AX5 routers provided almost the same signal strength and coverage.
Default Wireless Network Settings
Band: 5GHz
No' of channels: 44
Encryption: WPA2 Personal Edition
Test Results:
| | | | |
| --- | --- | --- | --- |
| Device #1 | Xiaomi Redmi AX5 | | |
| Point | Location | Distance | Signal Strenght (dBm) |
| A | Next to the router Unit | 0.8M | -26 |
| B | The nearest room | ~8M | -54 |
| C | Hall | ~10M | -79 |
| | | | |
| --- | --- | --- | --- |
| Device #2 | Xiaomi Router Mi AX1800 | | |
| Point | Location | Distance | Signal Strenght (dBm) |
| A | Next to the router Unit | 0.8M | -20 |
| B | The nearest room | ~8M | -56 |
| C | Hall | ~13M | -80 |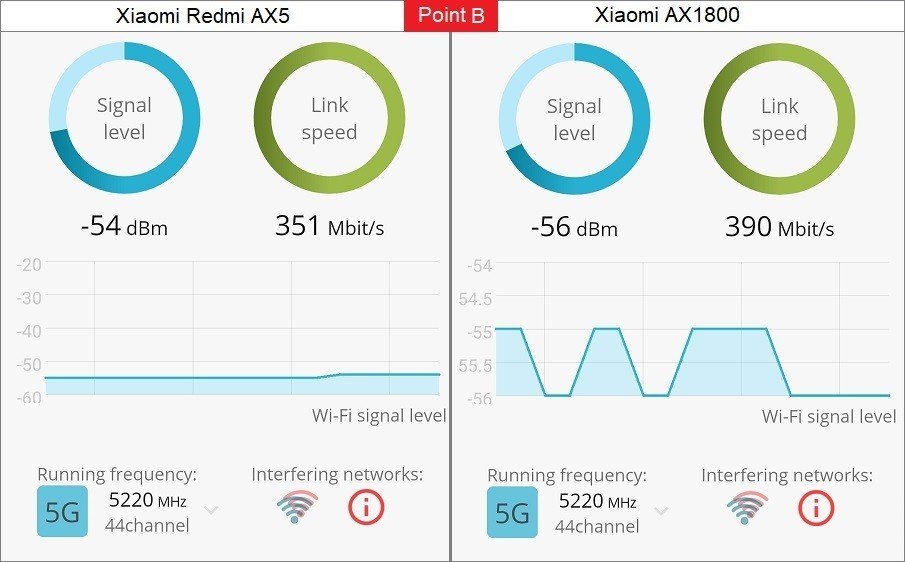 ---
Final Words
If you are looking for a cost-effective router that can also handle high broadband internet connections up to 1 Gigabyte, then the Mi Router AX1800 is an excellent choice. As a final tip, you can buy a pair of AX1800 units or more to set a mesh network by placing all AX1800 units in different strategic spots around your home, which should greatly help extend signal coverage.
---
Price & Availability
After Xiaomi's first WiFi 6 router launch, the AX3600 AIoT router received high praise from user reviews for its flagship hardware and excellent user experience. As the second product of the Xiaomi WiFi6 router, the Mi Router AX1800 has a lower price threshold starting at ~$58, and it retains most of the functions of the AX3600, which provide excellent spec price ratio value for both home and office users.
---
Where to Buy
The Mi Router AX1800 is currently available in AliExpress Joinrun-Tech Store. If you are interested in this excellent product, we recommend you check the following product link below:
This site contains affiliate links to products. We may receive a commission for purchases made through these links.
AliExpress Mijia Shop Store.
---
Review Summary
Mi Router AX1800 Review Summary