---
ROCK PI SATA HAT: The Best NAS Drive 2022 to Backup Data
Raxda's ROCK Pi 4 single-board computer (SBC), powered by the Rockchip RK3399 Hexa-core processor similar to the NanoPi M4 SBC, now gets a new extension add-on card that transforms the ROCK Pi 4 board into a home NAS device. The kit comprises an add-on card and an optional tall plastic case specifically designed to hold up to five 2.5″ HDD/SSD devices.
The SATA HAT card to the ROCK PI 4 board through the 40-pin headers. The Onboard SATA interfaces also come with an all-in-one connector for both power and data, so it will be more convenient, and you would not need to use separate cables. Naturally, a small fan to cool the case will also be included in the planned kit.
Rock Pi SATA HAT has three models: two hard disks, four hard disks, five hard disks, etc. The 2/4 hard disk version supports both Raspberry Pi 4 and Rock Pi 4 at the same time. It uses USB 3.2 Gen1 transmission interface to connect with the development board. , Provide 2 or 4 groups of SATA terminals to connect the hard disk, and provide two additional USB 3.2 Gen1 to link to other devices.
Because the five hard disk version uses the PCIe transmission interface, it only supports Rock Pi 4. It provides four groups of SATA and 1 group of eSATA terminals. It can connect up to 5 hard disks, and the maximum total transmission performance can reach 803MB / s.
The power output of the Rock Pi SATA HAT is input through the USB Type C terminal (supports PD and QC power transmission modes). In addition to providing the Rock Pi SATA HAT body and solid-state hard disk operation, the power can be distributed to the Raspberry Pi 4 through GPIO use. If you connect a conventional hard disk that consumes much power, you must grab more power through the ATX power terminal.
In addition to connecting multiple hard drives through the Rock Pi SATA HAT, users can also transform the Raspberry Pi 4 or Rock Pi 4 into a mini NAS with a control panel and a dedicated case. In addition to displaying the operating status of the hard disk and system IP information, the control panel can perform operations such as fan control and shutdown.
ROCK PI 4 SATA HAT
Highlights:
Supported Boards: Raspberry Pi 4, Rock Pi 4.
Dual/Quad SATA HAT connected over two USB 3.0 ports and working with both boards
Penta SATA HAT joined over PCIe and compatible with ROCK Pi 4 only
---
Specification
2x or 4x SATA connectors supporting 2.5″ or/and 3.5″ HDD/SSD
2x USB 3.0 port to connect to RPi 4 via one or two JMS561 USB to SATA controllers
Storage Features – HDD suspend mode, UASP, software RAID 0/1/5
Misc

Fan and heatsink header for Raspberry Pi 4 CPU cooling
Optional PWM control fan for HDD heat dispatching
Optional OLED display for IP Address/Storage info

Power Supply

1x USB Type C power input with USB PD/QC to power both the SBC and 2.5″ drives
External standard ATX power supply support for 3.5″ HDD
Rock Pi SATA HAT – For Up to 5 Drives (Only compatible with Rock Pi 4 SBC)
Rock Pi SATA HAT – For Up to 4 Drives (Designed for 3.5-inch Drives)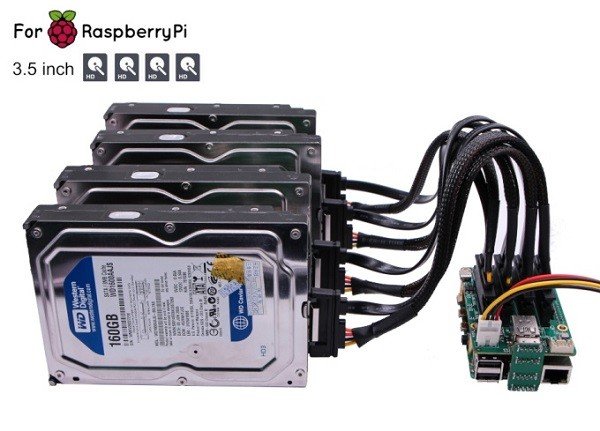 ---
Rock Pi SATA HAT – For Up to 4 Drives (Designed for 2.5-inch Drives)
Rock Pi SATA HAT – Plastic Case
A case for holding the Raspberry Pi 4 and four 2.5-inch SATA hard disks.
---
SATA HAT Top Board
For Dual/Quad and Penta SATA HAT
To monitor the SSD/HDD and display some basic information about the NAS, the TOP Board was designed.
It provides PWM FAN control, IP address info, and other details via the implemented OLED display and a button for selecting and powering the device off. This button can also be assigned to custom functions on request.
A ribbon cable connects the SATA HAT with the Top board.
---
ALLNET GmbH Official Store
Product Page.