thinkplus Live Pods XT92 Wireless Gaming Earbuds
Another great Earbud from Lenovo. The Lenovo Live Pod XT92 gaming earbuds offer a more modern gaming design that might be more appealing to the younger generation but not only.
Jumping into specifications, the internal battery capacity is slightly bigger powered by a 300mAh battery vs. The XT95 model which comes with a 250mAh battery. Also, the earbud's battery capacity is 30mAh so you would probably gain an additional half-hour of usage, squeezing a total of 4 hours of battery life.
In the XT92 model, you will not find a digital charging status display, but rather cool-looking LED lights embedded in the case that flash when the earbuds batteries need further charging. The price is very affordable, you may find it on AliExpress as low as $14 USD. As a whole a new fresh product worth exploring!
---

Specification
Headphone battery capacity

Play, Pause, Volume, Next track playing

Chargin Case Battery capacity

Chargin Case Charging Time

Accidental touch prevention (Double touch)

Supported Touch Control Functions

Answer Phone Call

Previous Track/Next Track

Refuse Phone Call

Play/Pause

Ranking - Based on Personal Insights -
---
Package
---
Package Content
1x Thinkplus XT92 Wireless Earbuds (Case Included).
1x Charging Cable (USB-Type C).
1x User Manual.
1x 6 Earbud Caps.
QA Inspection certificate.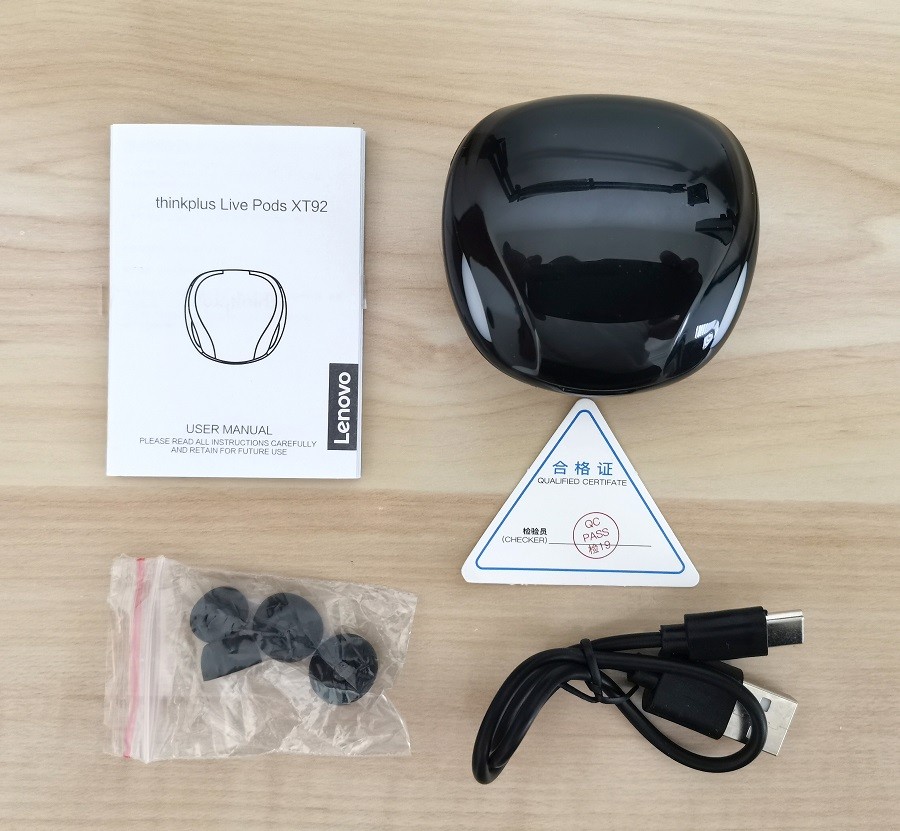 Unboxing All Items
---
Design & Build Quality
Focusing on the carrying case externals, it comes with a very glossy surface made of ABS material (Plastic) which reminds a Snake eye type design consisting of right and left LED status lights that turn green when the earbuds are inserted into the charging case for additional charging and storage. Each earbud also comes with a nice green status LED light that gives the user a good indication if the device is paired, discounted, or needs additional charging.
While charging, the status indicators flash.
Lenovo thinkplus Live Pods TX92
Lenovo thinkplus Live Pods XT92 | Left & Right Earbuds
---
Sound Quality
The sound quality was good with a noticeable none fat bass effect. In our opinion. The sound was slightly richer and better than the XT95 model, but not by far. It's not as loud compared to the XT95 model, but in any normal everyday situation, most people will not turn volume levels to their maximum those risking their personal health with hearing damage. Microphone sensitivity was tested using the default android Recorder App and worked well for us.
---
Earbuds Case
The case is compact and can fit a small beg It's not as thick as the XT95 model, so you will most likely not have a pleasant feeling inserting it into your jeans. Having said that, In this model, Lenovo thought ahead by adding a USB-Type C charging port that is a more user-friendly plug and charge versus trying to figure the plug insertion direction with a micro-USB cable, which can be sometimes very frustrating.
---
Final verdict
Lenovo thinkplus Live Pods XT92 is a great product with good value for the buck. It has a good sound quality that each user would like, for everyday use and not only for gaming purposes. It has a cool look and we strongly recommend using it to listen to popular music streaming services like Spotify, TIDEL, YouTube, and more.
---
Review summary
AliExpress QianHai Global Store
Pros & Cons

Pros:
– Low Cost.
– Modern Appearance.
– Great Design.
– Good Sound.

Cons:
– None